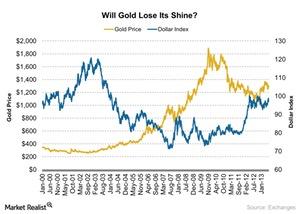 Druckenmiller Says His Reason for Holding Gold Is Ending
By Sarah Sands

Updated
Stanley Druckenmiller on gold
In an interview with CNBC, Stanley Druckenmiller said that he is optimistic about economic growth. He also said, "I sold all my gold the night of the election. All the reasons I owned it for the last couple years, it seems to me they may be ending. And by the way, they're ending globally."
Earlier at the Sohn Investment Conference in New York on May 4, 2016, Druckenmiller said that he sees warning signs for the global market (ACWI) (VEU). He also said that the bull market is exhausting itself. At that time, he said that he was allocating most of his portfolio in gold, as he believes the equity market turmoil will continue in the near future.
Article continues below advertisement
However, it's now changed. He believes that economic growth will pick up. The reason behind holding gold is changing. Investors normally prefer gold during an equity market rout. Gold as a safe-haven asset is important when international turmoil starts. After the subprime crisis, gold (GLD) rose 145% from the lows of September 2008 to its highs in July 2011.
Fed's lower interest rate era
The Fed's persistent dovish stance supported the movement of gold (RING) (GDX). It has been creating bubbles in most of the asset classes such as equity (SPY) and gold (GLD). However, he believes that now the interest rate will gradually go up. Rising interest rates might not favor the gold rally. During the revival of economic growth, investors generally rotate money to equities and other riskier asset classes. However, when the earnings cycle starts to saturate or fall, money tends to find safe assets such as gold.
He is now changing his investment vehicles. He said, "I have a large bet on economic growth…I'm short bonds globally…I'm short U.S. bonds [due to stronger future growth]. I like the sectors of the equity market that respond to growth [like] value and materials, not things like staples or traditional growth stocks…I really like the [U.S.] dollar, particularly against the euro."
In the next part of this series, we'll analyze Carl Icahn's view on the election outcome.