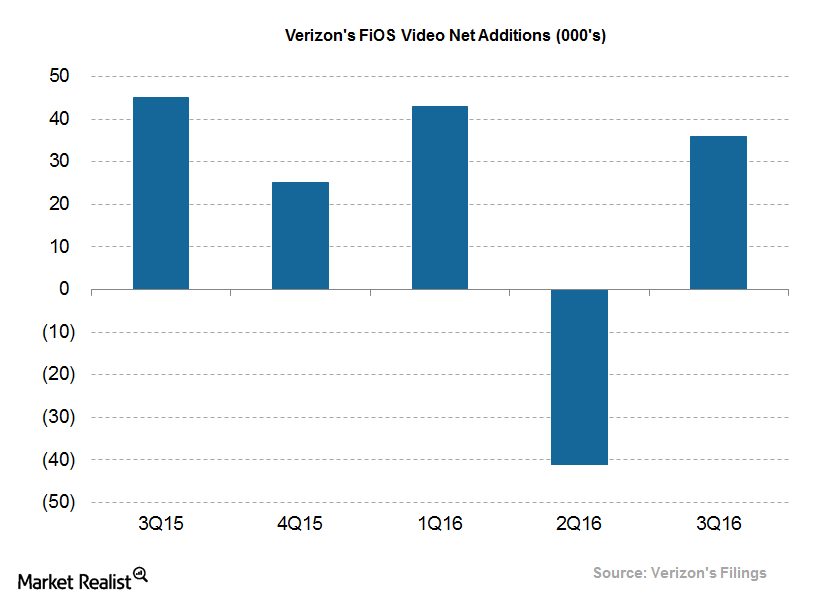 Softer Linear TV Demand Impacts Verizon's FiOS Video Business
By Ambrish Shah

Nov. 21 2016, Updated 10:04 a.m. ET
Verizon's FiOS video net additions in 3Q16
A key driver of Verizon's (VZ) wireline segment is FiOS (Fiber Optic Service). Verizon FiOS is a fiber-optic network service that provides customers with Internet, voice, and video services.
In 3Q16, Verizon added 36,000 FiOS video subscribers compared to 45,000 in 3Q15. The company has rebounded faster than expected from its strike issues in 2Q16. It believes that going forward, FiOS video net adds will return to pre-work-stoppage levels.
In 3Q16, Verizon's FiOS video penetration fell 90 bps (basis points) to 34.5% compared to 35.4% in 3Q15. The fall was mainly due to softer linear TV demand.
Article continues below advertisement
Verizon lost FiOS video subscribers in 2Q16
As you can see in the above graph, Verizon lost 41,000 FiOS video subscribers in 2Q16. The main reason was the seven-week work stoppage from the strike in its wireline segment in 2Q16, which resulted in a $0.07 per share hit. The company had a backlog of FiOS installations due to the strike.
The trend of softer linear TV demand is coming from fast growth in the video streaming or over-the-top market. The online video streaming market in the United States is a crowded segment. In addition to Netflix (NFLX), pay-TV providers such as Dish Network's (DISH) Sling TV and Time Warner's (TWX) HBO are vying for potential customers in the segment.
According to reports, pay-TV providers such as Verizon, Comcast (CMCSA), and Charter Communications (CHTR) are currently losing customers to online video streaming companies. The phenomenon is known as "cord-cutting."
But Verizon is optimistic and sees an opportunity to further penetrate the FiOS video market in the coming years.