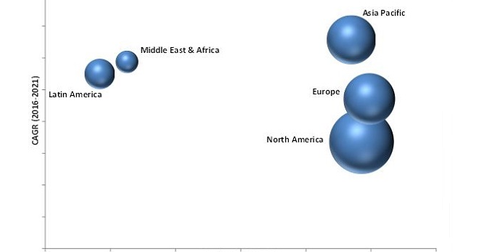 Why Is Salesforce Keen on Diversification?
By Anne Shields

Nov. 22 2016, Updated 7:04 p.m. ET
Asia-Pacific region grew the most
Earlier in this series, we discussed Salesforce's (CRM) fiscal 3Q17 earnings, which not only beat analysts' expectations but also its own guidance. Its better-than-expected 3Q17 results boosted Salesforce's stock, which has gone through some ups and downs in the last year.
In fiscal 3Q17, Salesforce's revenue grew in all geographies. Salesforce derives a bulk of its revenue from the Americas. However, if we look at its fiscal 3Q17 results, its Asia-Pacific (FAX) region grew the most, growing 38%, or 29% under constant currency, in 3Q17. The Americas region posted ~$1.6 billion in revenue, Europe (EFA) posted ~$337 million, and the Asia-Pacific region posted ~$209 million. Trump's proposed tax reductions are likely to benefit Salesforce, which, unlike peers Microsoft (MSFT), IBM (IBM), and Oracle (ORCL), generates a substantial portion of its revenue from the Americas.

Article continues below advertisement
Asia-Pacific expected to grow at the highest rate
Salesforce's continued growth in the Asia-Pacific region and Europe indicates its success and keenness on implementing its diversification plans. The above chart by MarketsandMarkets shows growth in the cloud billing market. It is expected to grow at a CAGR (compound annual growth rate) of 23.9%, to become a $16.6 billion market by 2021 from $5.7 billion in 2016.
In this market in 2016, the Asia-Pacific region is expected to grow at the highest rate, while North America is expected to hold the largest market share. Among cloud billing services, SaaS (software-as-a-service) is gaining popularity due to its potential to offer customized and innovative services. Therefore, Salesforce's diversification plans and growth in the Asia-Pacific region, coupled with its dominance in the CRM (customer relationship management) and SaaS spaces, will benefit the company in future.