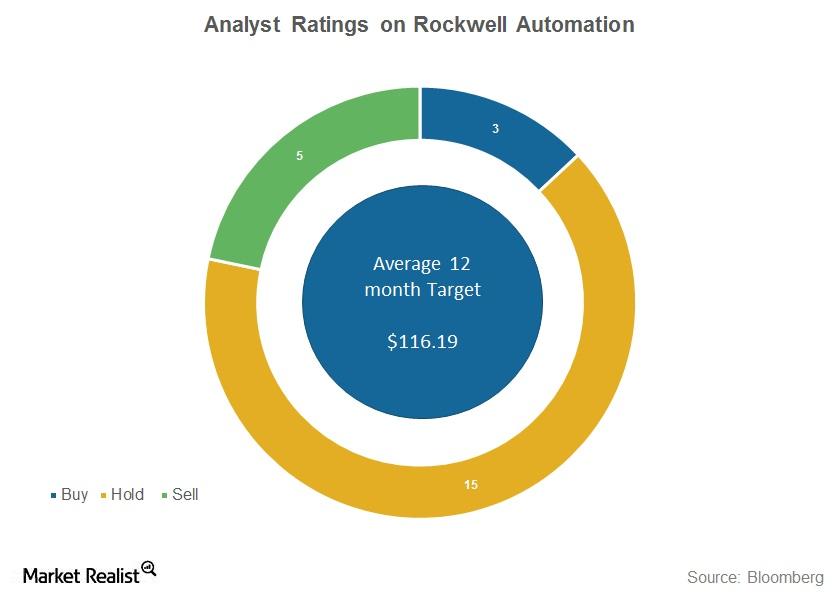 Compared to Its Peers, Rockwell Automation's Returns Are Stellar
Analysts' recommendations
Among the analysts surveyed by Bloomberg, three rated Rockwell Automation (ROK) as a "buy," 15 rated it as a "hold," and five rated it as a "sell."
The average 12-month target price on Rockwell Automation was $116.19 on November 7, 2016. Compared to Rockwell's current market price of $124.24, this represents a return potential of -6.5%.
Among major banks (IYF), Barclays has an "overweight" designation on the stock, with a target of $143. Credit Suisse (CS) has a "neutral" rating and a target of $121 on ROK. Morgan Stanley (MS) and JPMorgan Chase (JPM) both call the stock "underweight" and have given it targets of $108 and $101, respectively.
Article continues below advertisement
Year-to-date returns of Rockwell Automation and its peers
Investors who took positions in Rockwell Automation at the beginning of the year would have made 22.4% on their investments by November 7, 2016. During the same period, the S&P 500 rose 5.9%. Selection bias is inherent in this calculation, as investors who took positions on Rockwell Automation in mid-2014 would have hardly made any capital gains over the years.
Among competitors, Emerson Electric (EMR) would have yielded 6.5% in capital gains year-to-date. At market prices on November 3, 2016, Emerson had a dividend yield of 3.8%, compared to the 2.5% dividend yield of Rockwell Automation. AMETEK (AME), on the other hand, would have been a poor investment at the beginning of 2016, as it lost 14.8% of its value by November 3.