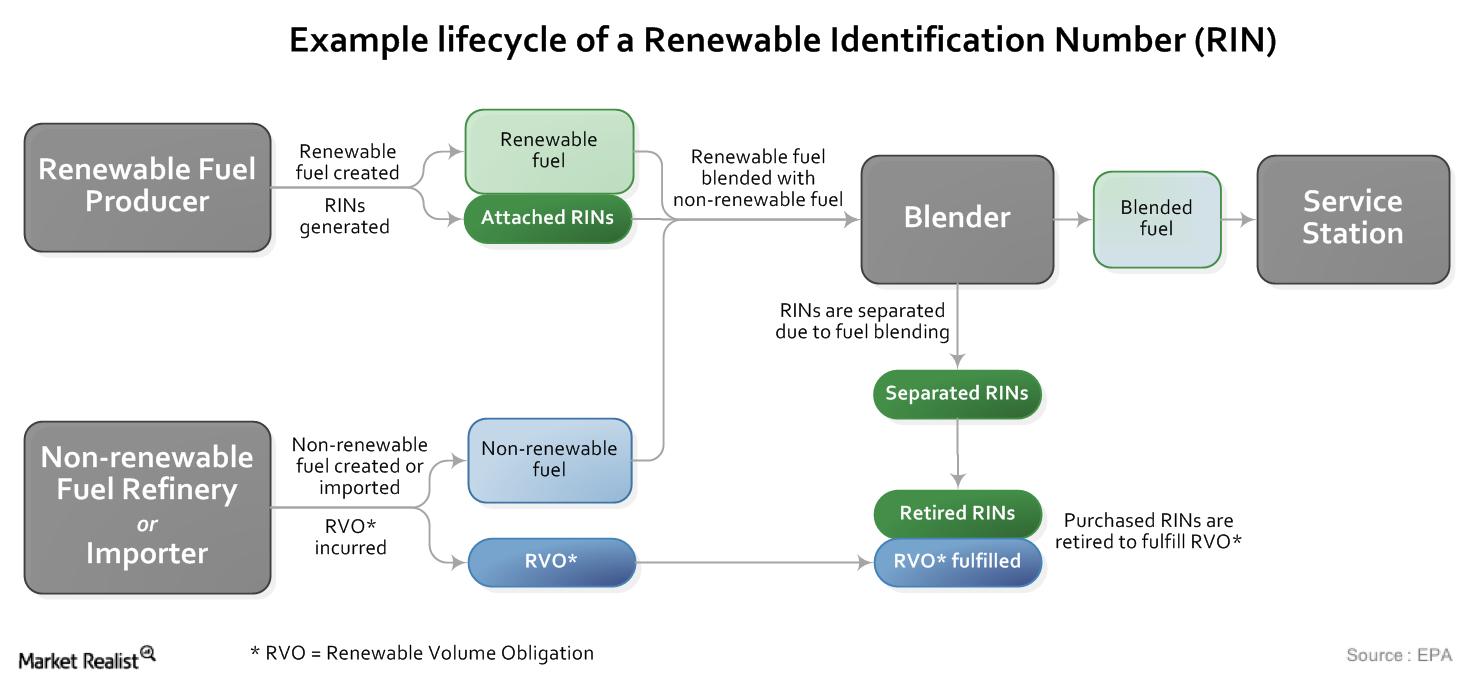 Gauging the Impact of RINs on Refiners: Bane or Boon?
By Maitali Ramkumar

Nov. 14 2016, Published 3:02 p.m. ET
Impact of RINs on refiners
RINs (renewable identification numbers) are assigned for renewable fuels produced in or imported to the United States. As producers of petroleum products, refiners have to blend renewable fuels at a rate that satisfies the EPA's (US Environmental Protection Agency) annual quota.
If refiners are unable to do so, they have to purchase RINs from a market for RINs. These RINs are generated with a batch of renewable fuels.
Article continues below advertisement
When the renewable fuels are purchased with RINs, it is called "assigned/attached RINs." But when RINs are purchased on a standalone basis, it's called "separated RINs." These separated RINs are then retired against RVOs (renewable volume obligations), or compliance volumes set by the EPA. According to the EPA, RINs retire when they are "used to demonstrate compliance or required to be retired for other purposes."
For exposure to refining and marketing sector stocks, investors can consider the SPDR S&P Oil & Gas Exploration & Production ETF (XOP), which has ~18% exposure to the sector.
How are refiners handling RINs?
According to the EPA, "Congress created the renewable fuel standard…program to reduce greenhouse gas emissions and expand the nation's renewable fuels sector while reducing reliance on imported oil."
Refiners thus have to blend renewable fuels so that they can comply with RFS regulations, and this means that the refiners with the highest number of service stations or blending terminals will usually have fewer RIN purchase requirements, resulting in lower compliance costs.
Article continues below advertisement
For example, though Marathon Petroleum (MPC) produces a fraction of the refined products that Valero Energy (VLO) produces, its compliance costs (with regard to RIN purchases) are proportionately lower. In 3Q16, MPC has spent $80 million on the purchase of RINs, whereas VLO has spent $198 million—likely because MPC has a vast network of service stations and blending terminals, especially after its acquisition of Hess's (HES) fueling stations. Thus, more blending facilities can be one of the most important factors impacting refiners' RIN purchase cost.
Notably, Valero expects to spend around $750 million–$800 million towards the purchase of RINs in 2016. PBF Energy (PBF) also witnessed a 15% rise in compliance cost in the third quarter. These costs directly impact refiners' operating margins, and volatile RIN prices can make these refiners' profits unpredictable.
Tesoro's solution to RINs
To counter its rising compliance costs, Tesoro (TSO) acquired Virent. The acquired company, with its patented Bioforming technology, uses bagasse (from sugar cane), corn stover (from maize crop), and other biomasses (like wood and sorghum) instead of crude oil to produce fuels and chemicals. The fuels produced include gasoline, diesel fuel, jet fuel, and blendstock. This practice should reduce TSO's compliance costs soon.