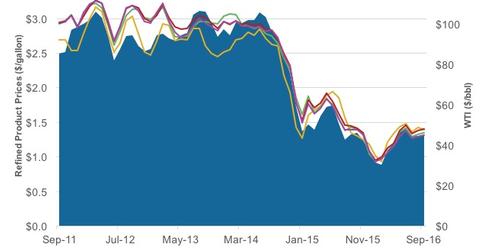 How Much Are Refined Product Prices Affected by Crude Oil Prices?
By Maitali Ramkumar

Updated
Refined products prices
The chart below shows the prices of WTI (West Texas Intermediate) crude oil, and refined products—gasoline, heating oil, diesel, and kerosene-type jet fuel during the past five years. As we've already discussed in this series, the US Gulf Coast is the largest refining zone in the US, and so we've considered Gulf Coast prices for all these products. For heating oil, we've used the New York Harbor price because this is a better benchmark for the product.
It's evident from the chart above that refined product prices move in tandem with crude oil prices. From September 2011 to September 2016, WTI prices fell 47% and gasoline prices, while WTI fell 48% during the same period.
The situation is similar for other refined products as well. Heating oil spot prices have fallen 54% in the past five years, and diesel prices have fallen 52% during the same period.
Article continues below advertisement
Implications
The above study shows that refined product prices move largely in line with oil prices. But any demand-supply imbalance in the market and consequential impact on inventory levels can result in less-than-perfect proportionate changes in the prices of refined products as compared to crude oil prices.
Higher refined product prices yield higher revenues (assuming that volumes remain constant) for refiners like Marathon Petroleum (MPC) and Valero Energy (VLO). But at the same time, rising crude oil prices inflate costs for refiners, and so tracking crude oil costs and the prices of refined products can give a good sense of the refining profitability of individual refiners.
For exposure to refining stocks, you can consider the Vanguard Energy ETF (VDE), which has ~8% exposure to the sector.