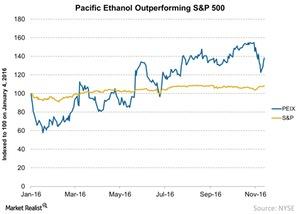 A Quick Look at Pacific Ethanol Stock's Outperformance of the S&P 500
By Adam Jones

Nov. 18 2016, Published 3:53 p.m. ET
Ethanol as an additive
The next time you fill up your gas tank, look at the sticker on the gas pump to see the percentage of ethanol that has been added to your gasoline. Usually, gasoline in the US has up to 10% ethanol and is labeled as E10. But some gas stations may also sell gasoline with a higher percentage of ethanol, which is labeled according to the content level.
Article continues below advertisement
Pacific Ethanol
Ethanol is a renewable energy source produced from sugarcane and corn. Ethanol is largely produced from corn in the US, which is also the largest producer of corn globally. Pacific Ethanol (PEIX) is one such producer of ethanol in the US.
YTD (year-to-date) Pacific Ethanol has risen 47.5% outperforming S&P 500's (SPY) 7% YTD returns. Lately, after Donald Trump's victory in the 2016 US Presidential election, the stock has risen sharply.
According to Pacific Ethanol, it's the sixth-largest ethanol producer in the US by annualized volumes. Other top players include Archer Daniels Midland (ADM), Valero Energy (VLO), and Green Plains (GPRE).
Series overview
While investors enjoy exceptional returns of 47.5% within one year of investments, it becomes an imperative to know what the future—at least for the next 12 months—holds for the company as far as investment decisions are concerned. In this series, we'll cover estimates for Pacific Ethanol's fundamentals over the next 12 months. We'll begin with sales estimates.