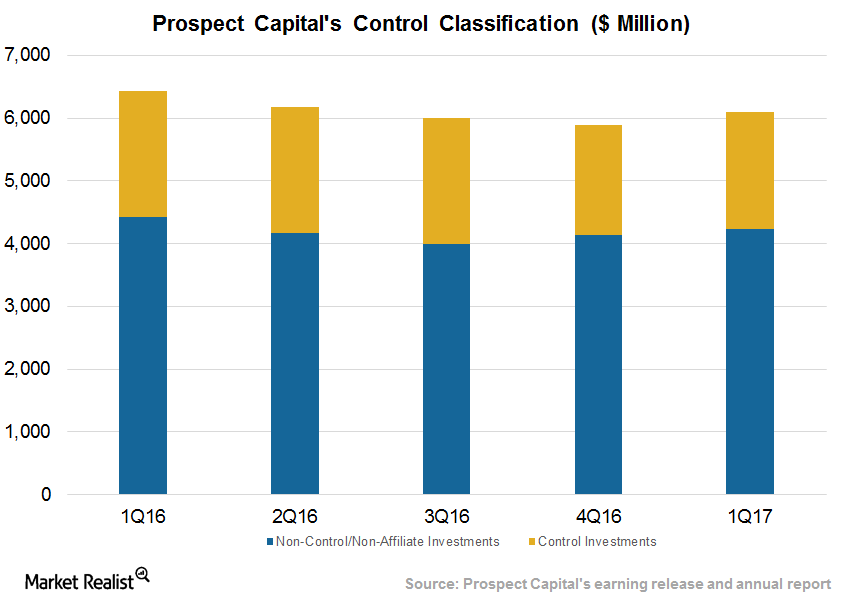 Prospect Capital's Controlled Investments, Structured Credit Expansion
By Robert Karr

Nov. 16 2016, Updated 11:04 a.m. ET
Controlled investments
Prospect Capital's (PSEC) controlled investments in fiscal 1Q17 (September quarter) rose to 30.6% of its total portfolio, as compared to 29.7% in the previous quarter. The company targets selective exits when it has found attractive pricing, and it deploys the proceeds into non-controlled investments consisting of first-lien and structured notes, which amounted to net investments of $232.8 million in the current quarter.
Article continues below advertisement
Prospect generated 20% of its origination in fiscal 1Q17 through online lending. Overall originations were lower in fiscal 1Q17. During fiscal 2014, the company entered the online lending industry jointly with NPRC (National Property REIT). Its total business currently stands at ~$577 million across loans, securitization interests, and underwriting platforms.
During fiscal 2016, Prospect made 29 follow-on investments in NPRC valued at $243.6 million to support its online consumer lending initiative. Its online business currently delivers an expected leveraged yield of ~14%, lower than the previous quarter rate of 15%. The EPS (earnings per share) growth of its investment management peers is as follows:
Together, these companies make up 13.5% of the ProShares Global Listed Private Equity (PEX).
Structured credit expansion
As of September 30, 2016, Prospect has invested in 40 structured credit investments, with a fair value of just over $1 billion in individual standalone, non-recourse financing to the company, with a downside capped at the net investment amount. Its underlying structured credit portfolio was made up of over 2,900 loans, with a total asset base of over $19.6 billion. The portfolio had a default rate of 1.39% during the past four quarters, which is 56 basis points lower than the broadly syndicated market rate of 1.95%.
In fiscal 1Q17, Prospect's structured credit equity portfolio generated an annualized cash yield of 26.1% and an annualized GAAP (generally accepted accounting principles) yield of 16.1%. The portfolio has generated cumulative cash distributions of $758.9 million, making up approximately 58.1% of the original investment.
The company has also exited seven structured credit investments for a total of $153.6 million, with an average internal rate of return of 16.8% and a cash-on-cash multiple of 1.42x.
In the next part, we'll look at Prospect's leverage and balance sheet strength.