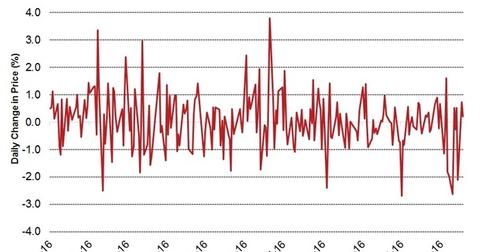 Gold Prices Surge As Trump Wins US Election
By VanEck

Updated
Our positive view on the long-term prospects for gold remains unchanged. The U.S. elections are over, and markets will likely take the time to reflect the full impact of a Trump victory. Gold immediately rose above $1,300 per ounce on November 8th on news of Trump's win but settled back to end the day at $1,278. Price volatility in the short run is not surprising.
Fed Comments on December Rate Hike Break Gold's Upward Move
The strong price movements that followed the U.K. Brexit vote on June 23 had set gold on a new positive trend, breaking the downtrend that had been established during the 2013-2015 gold bear market. On October 4, however, gold fell $44 per ounce, a 3.4% drop for the day, and gold closed below $1,300 per ounce for the first time since June 24. As it had for most of the year, the downward pressure followed comments by some Federal Reserve (the "Fed") members that were interpreted by the market as increasing the likelihood of a Fed interest rate hike occurring in December. In addition, and importantly, Chinese markets were closed the first week of October for the Golden Week holidays. With gold's biggest buyer out on vacation, gold was left very vulnerable, which we believe emboldened short sellers. Gold closed as low as $1,251 per ounce on October 14 but bounced back modestly to end the month at $1,277.30 per ounce, down $38.45 or 2.9% for the month.
Article continues below advertisement
Market Realist – Markets sent into a tailspin
After Republican Donald Trump's surprise win against Hillary Clinton in the US presidential election, financial (XLF) (KRE) markets saw volatility (VXX) (XIV) around the world (ACWI) (VEU). The S&P 500 (SPY) (IVV) (VOO) fell ~5% and the Dow Jones Industrial Average (DIA) tumbled 800 points after the election. However, markets recovered by the end of the day. Also, gold rose ~5% to $1,337.40 on November 9, 2016, its highest price after the Brexit vote. In the coming parts of this series, we'll discuss how the Fed's rate hike and the Consumer Sentiment Index can impact gold, and how the metal is an inflationary hedge.