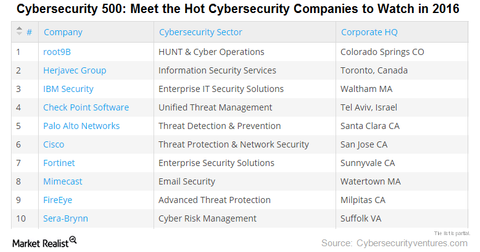 A Trump Presidency Could Benefit FireEye in Cybersecurity Space
By Anne Shields

Updated
Cybersecurity space could see increased spending and expansion in 2017
Cybersecurity has stayed in focus since Donald Trump won the US presidential election on November 8, 2016. The policy section of his website included his plan to "order an immediate review of all U.S. cyber defenses and vulnerabilities."
According to Cybersecurity Ventures's 4Q16 report, the global cybersecurity space is expected to grow at a CAGR[1. compound annual growth rate] of 9.8% from ~$106.3 billion in 2015 to ~$170.2 billion by 2020. Approximately $1 trillion is expected to be spent globally on cybersecurity from 2017–2021.
Financial companies and governments have increased allocations toward their cybersecurity budgets. JPMorgan Chase (JPM) raised its annual cybersecurity budget from $250 million to $500 million. Bank of America (BAC) noted that it wouldn't restrict itself to any budget to combat cybercrime.
The US government's spending on cybersecurity is forecasted to reach $19 billion in fiscal 2017. In a research paper, Morgan Stanley (MS) noted that in 2012, President Obama identified cybersecurity as "one of the most serious economic and national security challenges we face as a nation."
Article continues below advertisement
In 2015, FireEye (FEYE) was ranked as the top company in the list of what Cybersecurity Ventures considered "the hottest and most innovative cyber security companies to watch." However, the company slid into ninth position in 2016. Later in this series, we'll explore the factors that pressured FireEye.
IBM Security (IBM), Check Point Software (CHKP), Palo Alto Networks (PANW), and Cisco (CSCO) were other players in this space who were positioned ahead of FireEye on the 2016 list, ranking third, fourth, fifth, and sixth, respectively.
Factors fueling expansion in the cybersecurity space
We know that rapid innovation and developments in big data, cloud, and mobile computing are transforming the information technology sector.
In October 2016, we noted that the SMAC (social, mobile, analytics, and cloud) revolution, the BYOD (bring-your-own-device) concept, IoT (Internet of Things), and increase in the mobile workforce are the top factors that have enabled consumers and employees to access confidential data and information outside secure data centers and firewalls.
As a result, companies are either spending billions of dollars in upgrading their systems, or they are entering into partnerships with security firms to protect their data and expand their cybersecurity space.
Later in this series, we'll see how FireEye aims to benefit from growth in this space with its strategic initiatives.