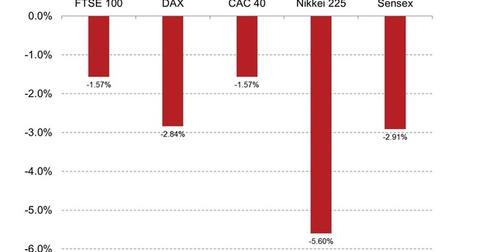 Paul Krugman Sees a 'Trump Slump' in the Making
By Surbhi Jain

Updated
Paul Krugman predicted "a global recession, with no end in sight"
When the news of Donald Trump's victory came in, Nobel Laureate Paul Krugman said, "we are very probably looking at a global recession, with no end in sight." Krugman clearly doesn't approve of a Trump presidency.
He later retracted from his quick judgment, reiterating that "Trumpism will have dire effects, but they will take time to become manifest." He even went on to say in his November 16 post that economic growth in the US may actually accelerate for a couple of years.
Article continues below advertisement
The Fed will lose its independence
While Krugman agrees that the US economy (SPY) (IWM) (QQQ) has been adding jobs at a good pace and is also closer to full employment, he attributes the achievement to the low-interest rate regime that has been prevailing in the US for some time now. Now, when the central bank has very little room left for boosting the economy through monetary policy measures, the economy may find it difficult to recover if any bad news comes its way. In fact, with the Donald Trump win, Krugman believes that the "Fed will lose its independence, and be bullied by cranks," according to the New York Times. Krugman sees a major degradation in both the quality and the independence of public servants.
Krugman sees a "Trump slump" in the making
Moreover, "a return to protectionism and trade wars would make the world (ACWI) (VTI) economy poorer over time," believes Krugman. According to Krugman, Trump's plan with regard to infrastructure spending, tax cuts, and credits is a low-bang-for-the-buck way to boost the economy. Krugman thinks these policies will only benefit corporations and the wealthy. Nonetheless, given the current state of the US economy, in the short run, his stimulus strategies could be better than no stimulus at all.
"In short, don't expect an immediate Trump slump. Now, in the longer run Trumpism will be a very bad thing for the economy," said Krugman.
While Donald Trump has been holding trade responsible for job losses in the US, Krugman believes that this is an "easy focus," but that it doesn't tell the whole story.