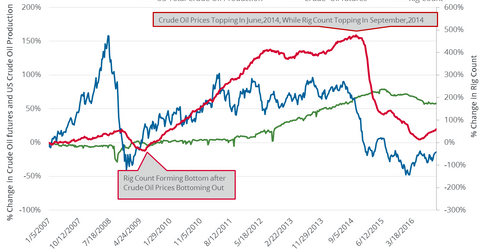 Oil Rigs Up 39.6% from Bottom: What Does It Mean for Oil Prices?
By Rabindra Samanta

Updated
Latest oil rig data
The US crude oil rig count was 441 in the week ended October 28, 2016, a fall of two rigs compared to the previous week's count, according to data released by Baker Hughes (BHI).
On November 1, 2016, crude oil (USO) (USL) (OIIL) (DWTI) (UWTI) (SCO) prices were ~56.5% lower than their post-crisis high from June 20, 2014, based on closing prices.
Oil prices started their downturn on June 20, 2014. The number of active oil rigs has fallen 71.5% since then. US crude oil production is ~11.5% lower than it was at its peak in June 2015, according to weekly data from the U.S. Energy Information Administration (or EIA).
Article continues below advertisement
Rig counts, crude oil production, and prices
Over the past ten years, the oil rig count and crude oil's price bottoms and peaks have been between three and four months apart, according to research from Morgan Stanley. After the subprime crisis, when crude oil touched multiyear lows in January 2009, the rig count bottomed out in May 2009.
Crude oil touched a 12-year low on February 11, 2016, but it has rebounded 78.1% as of November 1, 2016. According to the pattern mentioned above, the rig count should have hit a bottom in June 2016. The rig count did rise for the first time in 11 weeks in the week ended June 3. Since then, the count has risen by 116 rigs as of the week ended October 28, a rise of 39.6% from its bottom.
During this period, crude oil production fell ~2.6%, according to weekly data. However, the recent rise in rigs could help to slow the rate of fall in production. If rigs rise sharply enough on the back of stronger crude oil prices, production could eventually increase, too—a bearish sign for crude oil prices.
Rigs, energy companies, and oil prices
Upstream companies' capital expenditure reductions resulted in a lower rig count and a fall in US crude oil production. Rising rig counts indicate that upstream companies are starting to increase their drilling activities, which could eventually result in higher crude oil production and pressure on prices again. US crude oil active futures have fallen 4% since June 3, 2016.
The Fidelity MSCI Energy Index ETF (FENY), the Guggenheim S&P 500 Equal Weight Energy ETF (RYE), and the iShares US Oil Equipment & Services ETF (IEZ) are affected by crude oil production levels.
In the next article, we'll look at the relationship between crude oil inventories and crude oil prices.