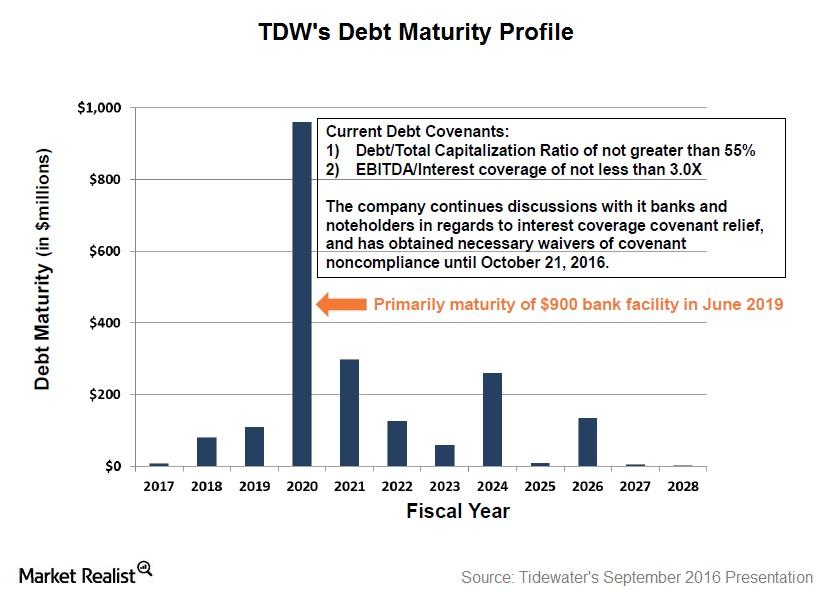 ODH's Credit Rating Downgrade: How's the OFS Industry Coping?
By Alex Chamberlin

Nov. 30 2016, Published 1:32 p.m. ET
Fitch downgrades ODH
On November 29, Fitch Rating downgraded the credit rating for Offshore Drilling Holding SA, or ODH, a Mexican offshore driller. Fitch downgraded ODH's long-term foreign and local currency notes and senior secured notes. Fitch is a credit rating agency. The primary reasons why ODH's bonds were downgraded were:
temporary suspension of operations at Bicentenario – ODH operated an ultra-deep water and semi-submersible drilling rig at Bicentenario
less-than-sufficient cash flow from operations to cover the interest expense
lower contract rates resulting in lower day rates for ODH's other offshore rigs in Centenario and La Muralla IV
Article continues below advertisement
ODH's indebtedness
Fitch expects ODH's debt-to-EBITDA ratio, or indebtedness, to exceed 14.0x in 2017. It's expected to remain above 10.0x for the next three years. It's led by ODH's lower day rates and operation suspension at Bicentenario. Weak crude oil prices since mid-2014 led to a contract cancellation for many offshore projects in the past two years. It impacted the OFS (oilfield equipment & services) industry's profitability.
Tidewater's debt servicing woes
The issue of higher indebtedness also impacted OFS companies like Weatherford International (WFT) and Tidewater (TDW). Tidewater, a marine vessel operator, wasn't in compliance with its covenants as of June 30, 2016, and September 30, 2016. It means that Tidewater wasn't able to maintain the minimum interest coverage ratio. On November 11, Tidewater received a second extension of waivers against debt covenant compliances until January 27, 2017. Tidewater accounts for 0.03% of the iShares S&P Small-Cap 600 Value ETF (IJS). Read Is Tidewater in Danger of a Default? to learn more.
Next, we'll discuss recent debt concerns for Weatherford International (WFT).