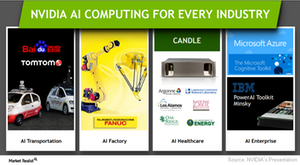 How Could Nvidia Increase Adoption of AI across Verticals?
By Puja Tayal

Updated
DGX SaturnV: Nvidia's first in-house supercomputer
In the previous part of this series, we saw that Nvidia (NVDA) is seeing increasing adoption of GPUs (graphics processing units) by supercomputers and cloud companies for their AI (artificial intelligence) tasks. Nvidia is now moving to the next generation of AI.
At the SC16 (Supercomputing Conference 2016), the company debuted its first in-house supercomputer, the DGX SaturnV. The DGX SaturnV contains 124 DGX-1 servers, each of which features eight P100 GPUs.
The DGX SaturnV ranks 28th on the list of the world's top 500 supercomputers. Delivering ~9.5 gigaflops per watt, the SaturnV is 42% more energy efficient than the most efficient supercomputer on the top 500 list. This has made the SaturnV the most energy-efficient supercomputer in the world.
The DGX SaturnV's striking features have attracted attention from SAP, Open AI, and Benevolent AI. Nvidia is using the SaturnV to analyze its chipset designs and compose the software for DRIVE PX-2.
Nvidia has also partnered with IBM (IBM) and Microsoft (MSFT) to accelerate the adoption of its GPU technology for AI tasks in the enterprise space.
Article continues below advertisement
Nvidia's partnership with IBM
In its partnership with IBM, Nvidia (NVDA) would connect its four Pascal P100 GPUs directly to the IBM POWER8+ processors. NVDA would use its NVLink fabric to accelerate the data transfer at a speed of up to 80 GBps of bandwidth, which would speed up the training of neural networks for deep learning.
Nvidia would also launch a new suite of PowerAI software that would eliminate the need for reconfiguration.
Nvidia's partnership with Microsoft
In partnership with Nvidia, Microsoft would use the former's Pascal GPUs to accelerate its Cognitive Toolkit, or CNTK, used for training computers on machine learning. Microsoft and Nvidia have created a set of deep-learning algorithms and libraries to accelerate CNTK's speed to perform AI tasks.
Nvidia's CANDLE initiative
Apart from its enterprise initiatives, Nvidia is expanding its GPU technology in the fields of healthcare and energy. It partnered with the National Cancer Institute and the US Department of Energy to speed up the latter's AI software, Cancer Distributed Learning Environment (CANDLE). Nvidia would use the DGX SaturnV in this project.
Looking at the growth opportunities presented by the AI market, Intel (INTC) and Advanced Micro Devices (AMD) have also entered this space. However, they lag behind Nvidia in terms of technology.
Next, we'll look at the outlook of AI and the growth potential it offers to all three GPU providers.