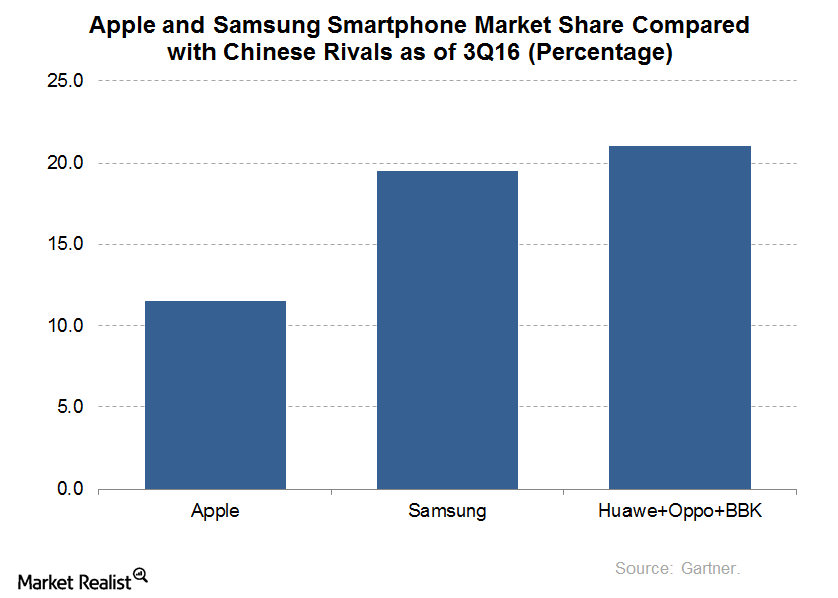 Nokia's Return to the Phone Business Threatens Apple and Samsung
By Ruchi Gupta

Nov. 23 2016, Updated 6:04 p.m. ET
Apple and Samsung struggling to defend market share
Nokia (NOK) has confirmed that it's returning to the handset business next year, but with a different strategy than it pursued in the past.
Nokia's return to the phone business could make for choppy waters for Apple (AAPL) and Samsung (SSNLF), the largest smartphone vendors, which are currently struggling to defend their market shares. A new report by Gartner has shown that Chinese smartphone manufacturers Huawei, Oppo, and BBK are gaining market share against Apple and Samsung.
Article continues below advertisement
Nokia's altered approach
Though Nokia is returning to the phone business, it's avoiding producing devices directly. Instead, it has assembled partners including HMD and Foxconn, the contract manufacturer of Apple, Hewlett-Packard (HPQ), and Dell. Foxconn will take care of research and development (or R&D) and manufacturing, while Finnish company HMD will be responsible for overseeing device production and marketing. Nokia will donate its brand and patents.
Foxconn's involvement could be a major boost for Nokia as the company returns to the phone business, but it could be a setback for Apple. People associate Apple's suppliers and manufacturers with excellence, and a new Nokia smartphone could benefit from the same reputation. If Nokia and its partners decide to price the new phone competitively, consumers may reason that a Foxconn-produced Nokia handset is an iPhone at a discount.
Building on the Android platform
Nokia's comeback phones are expected to run Android from Alphabet (GOOGL). Taking the Android route could place Nokia as a major threat to Samsung, which is the leading Android manufacturer and has the most to lose in terms of market share.
Nokia's return to the phone business it set to occur two years after its sale of its devices unit to Microsoft (MSFT).