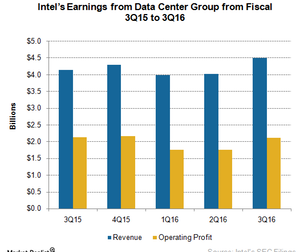 What New Developments Are Happening in Intel's Data Center Group?
By Puja Tayal

Dec. 2 2016, Updated 10:04 a.m. ET
Intel's Data Center Group
In the previous part of this series, we saw that Intel (INTC) is shifting its focus away from the declining PC space and is looking to grow in the data center market. The company earlier forecasted 15% annual growth in its Data Center Group (or DCG). However, there have been down seasons for this group as strong growth from the Cloud, Network, and Storage segments could be offset by declines from the Enterprise segment.
Moreover, the advent of deep learning and AI (artificial intelligence) is changing the data center landscape, and Nvidia (NVDA) is at the forefront of this change.
Article continues below advertisement
Data Center Group's revenue
In 3Q16, the DCG revenues grew 10% YoY (year-over-year) to a record $4.5 billion, driven by strong demand from Cloud, Telco, Networking and Storage, and Adjacencies. This was partially offset by a 3% YoY decline in Enterprise demand.
The Cloud demand rose 32% YoY and the Adjacencies demand rose 34% YoY. Adjacencies include non-processor products such as omni-path high-performance fabric, Silicon Photonics, and Xeon Phi. All these products started generating revenues in 2016. AI accounted for a very small portion of Intel's DCG revenues.
Despite strong revenue growth, DCG's operating profit fell 1% YoY to $2.1 billion in fiscal 3Q16. Its operating margin fell from 51% in 3Q15 to 46.9% in 3Q16 as the company's investments rose due to the ramp-up of the Broadwell server processor on the 14nm node.
The company expects its DCG revenues to grow and the Enterprise demand to stabilize in 4Q16.
Enterprise segment
The Enterprise segment has been facing declining revenues as more companies switch to the cloud. Despite this, Intel expects demand to stabilize as several enterprises are looking to have their own private clouds.
Enterprise is not a growth driver for the DCG. The Cloud and Networking and Storage segments are the growth drivers as the world moves toward virtualization.
Intel versus AMD in the server processor market
Meanwhile, Advanced Micro Devices (AMD) is looking to compete with Intel with its Zen server processors due to launch in 2017.
Even if AMD's Zen processor delivers similar performance as Intel's processor, Intel can make a few design tweaks and improve its performance without making huge investments. Intel is making some design tweaks in its fastest server chip, the 22-core Xeon E5-2699 v4, to increase its speed 5%. Moreover, it plans to launch the Skylake server processor in mid-2017, which may offer even better performance.
The real challenge for Intel is AI. We'll look into this in the next part of the series.