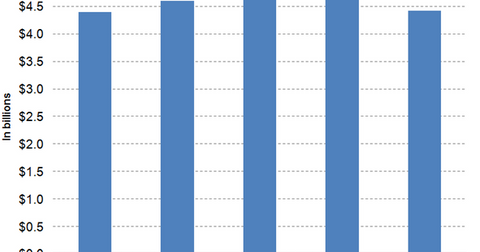 Neulasta Is Expected to Witness a Modest Revenue Fall in 2016
By Margaret Patrick

Updated
Neulasta growth trend
With Neulasta losing its patent protection in October 2015, Amgen (AMGN) has been actively involved in managing the end of life cycle for this mature brand. Neulasta, however, may have benefited from a delay in biosimilar competition in the United States, as the FDA rejected Novartis's (NVS) application for a biosimilar to Neulasta through its subsidiary Sandoz in 2Q16.
However, on October 14, 2016, Coherus Biosciences declared that the FDA had accepted its biologics license application, which had sought approval for a biosimilar to Neulasta. Increasing competition from branded drugs and future biosimilar competition may impact Neulasta's revenue in 2016.
Wall Street analysts have projected that in 2016, Neulasta's revenue will be ~$4.7 billion, a year-over-year (or YoY) fall of ~0.5%. This fall will likely be due to a slight fall in US demand as well as increased competition in international markets.
If Neulasta manages to surpass its revenue target in 2016, it could boost Amgen's share price as well as the share price of the SPDR S&P 500 ETF (SPY). Amgen makes up about 0.6% of SPY's total portfolio holdings.
Article continues below advertisement
Market opportunity
Neulasta is used as a therapy for cancer patients, who may suffer from febrile neutropenia as a side-effect of chemotherapy. According to BC Cancer Agency, "Febrile neutropenia occurs when a patient has a fever and a significant reduction in their white blood cells (neutropenia) that are needed to fight infections."
Amgen estimates that ~100,000 patients are hospitalized every year due to severe neutropenia. The condition leads to significant healthcare costs and affects the quality of life of patients. Additionally, the large number of antibiotics used to treat this condition could culminate in antibiotic resistance in patients. Neutropenia drugs such as Neulasta and Sanofi's (SNY) Leukine are the key hematopoietic growth factors used as treatment for neutropenia. Pfizer's (PFE) Meropenem or Merrem I.V., an antibiotic, is also used as a medication for neutropenia.
By the end of 2016, Amgen expects its Onpro delivery kit to be used by 50% of Neulasta users in the United States. Since it eliminates the need for a cancer patient to return to the clinic for an injection the day after chemotherapy, the Onpro kit has resulted in improved patient compliance rates. The resulting higher convenience for patients has helped to boost penetration rates for Amgen's Neulasta delivery kit in 2016.
In the next article, we'll explore a few of Amgen's mature brands, which could face revenue falls in 2016.