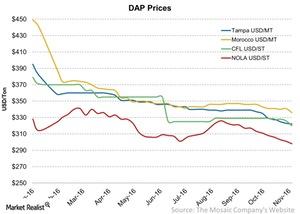 Negative for Mosaic: DAP Prices Continued to Fall Last Week
By Adam Jones

Updated
Phosphate fertilizers
Last week was broadly negative for DAP (diammonium phosphates). The median DAP prices fell 1.2% week-over-week in the locations below.
Phosphorus fertilizers (MOO) are becoming more important as the awareness of balanced NPK (nitrogen, phosphorus, and potassium) application fertilizers grows. The most common phosphorus fertilizers include ammonium phosphates such as DAP and MAP (monoammonium phosphate).
Article continues below advertisement
Prices
For the week ending November 18, DAP price movements were broadly negative—compared to the previous week. DAP prices in Tampa Bay fell by 31 basis points to $424 per metric ton, while prices at the US Gulf NOLA (New Orleans) also fell last week. In New Orleans, DAP prices fell 1% to $270 per metric ton from $273 per metric ton a week ago.
Similarly, DAP prices in Central Florida also fell 1.8% week-over-week to $320 per short ton or $290 per metric ton. YoY (year-over-year), the average DAP prices at the above three locations fell by an average of 21.4%. In North America, Mosaic (MOS) is one of the largest phosphate producers. PotashCorp (POT), Agrium (AGU), and Israel Chemicals (ICL) also produce and distribute phosphate fertilizers.
Morocco has the largest phosphate rock reserves. It saw average prices rise week-over-week to $336 per metric ton. Prices in Morocco fell ~28% YoY.
Input costs
Ammonia is a feedstock for producing DAP and MAP. Ammonia, natural gas, and phosphate rock prices impact phosphate fertilizer producers. Last week, phosphate rock prices in Morocco fell 2% to $96 per metric ton. Phosphate rock prices were trading ~22% lower YoY.
In the next part, we'll discuss MAP prices in more detail.