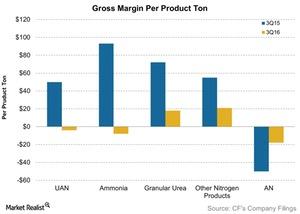 Taking a Closer Look at CF Industries' Margins
Gross margin
Article continues below advertisement
Gross margin by segment
In the above chart, we compared CF Industries' 3Q16 gross margins with product tons in 3Q15. Its gives us a better picture of each segment's gross margin performance.
Ammonia's gross margins fell the most from $93 per product ton to -$8 per product ton. UAN (urea ammonium nitrate) and granular urea followed. Their margins fell from $50 to -$4 and $72 to $18 per product ton. respectively. The AN segment's gross margin per product ton remained negative, but it improved from -$50 to -$32.
The Other segment's (supplying to industrial customers) gross margins fell from $55 per product ton to $34 in 3Q16.
It's a negative
Overall, we see that CF Industries' gross margins per product ton for each segment suffered significantly during 3Q16 except for the AN (ammonium nitrate) segment. Notably, the gross margin per product ton for UAN and ammonia were in the negative along with AN's gross margins. It implies that the company sold its products below cost, which simply isn't sustainable.
The falling gross margin per ton trickled down to the company's bottom line. We'll discuss this in the next part.