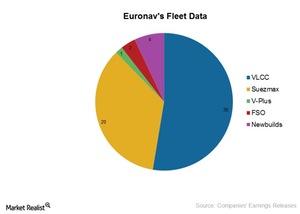 Must-Knows about Euronav's Fleet and Recent Acquisitions
By Sue Goodridge

Nov. 20 2020, Updated 1:05 p.m. ET
Acquisition
The day after Euronav (EURN) announced its 3Q16 results on October 31, it made another important announcement. Euronav agreed to purchase the 50% of the joint venture it does not own in the VLCC (very large crude carrier) VK Eddie.
Euronav will purchase the 50% stake for $39 million and will receive 50% of the proceeds. From mid-November onward, Euronav will have full control over VK Eddie.
In 3Q16, Euronav acquired two high-quality VLCCs. It also reached an agreement with the Hyundai Heavy Industries shipyard in South Korea to defer the delivery of its two recently purchased VLCC resales to 1Q17. These vessels were previously expected to join Euronav's fleet in October and November 2016.
Along with the deferral of deliveries, the associated payments are also deferred. The $97 million that Euronav expected to pay in 4Q16 was postponed to 1Q17.
Article continues below advertisement
New contracts
Euronav signed two long-term time charter contracts of seven years each. To fulfill this contract, Euronav ordered two high-specification Suezmax vessels. Delivery of these vessels is expected to occur in early 2018, when each of the time charter contracts will begin.
Euronav's fleet
Euronav's fleet consists of 56 vessels. Out of these, one is a V-Plus, 29 are VLCCs, 20 are Suezmaxs, and two are FSO vessels. There are also four newbuilds in the pipeline, including two VLCCs and two Suezmaxs.
To learn more about the fleets of Euronav's peers such as Tsakos Energy Navigation (TNP), Teekay Tankers (TNK), Nordic American Tankers (NAT), and DHT Holdings (DHT), please read our crude tanker comparison series.