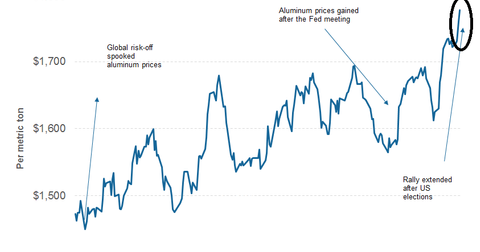 Must Know: Can Aluminum Prices Sustain Their Recent Gains?
By Mohit Oberoi, CFA

Updated
Aluminum prices
While copper rallied handsomely after Donald Trump was elected US president, aluminum prices didn't see a similar rally. With that said, aluminum prices were gaining strength even before the US presidential election.
In this article, we'll explore the factors driving aluminum's recent price action.
Article continues below advertisement
China's action
According to recent reports, weight limitations on trucks have been impacting aluminum transportation in China. According to a Wall Street Journal report, this could lead to higher transportation costs for Chinese producers (ACH).
Furthermore, higher coal prices as a result of China's clampdown on coal mining and supply disruptions in Australia have led to a spike in seaborne coal prices.
Energy intensity
Aluminum's energy intensity is the highest among metals (DBB). Electricity costs make up almost one-third of aluminum's smelting costs. It's why producers such as Rio Tinto (RIO), Alcoa (AA), and Norsk Hydro (NHYDY) have captive power plants to generate electricity and buy the remaining electricity from third parties. However, Century Aluminum (CENX) sources all of its power needs from outside parties.
Coal is also used in alumina refining. Rising coal prices have raised unit production costs for alumina refiners that don't have access to captive coal sources. As input costs have spiked for aluminum smelters in China and elsewhere, aluminum prices are getting a natural boost. Aluminum's projected deficit this year is also helping aluminum prices.
Along with aluminum, alumina prices have shown strength recently. We'll discuss this more in the next article.