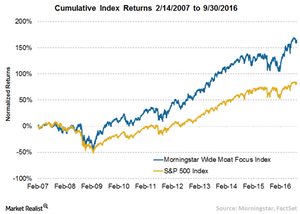 Moat Investing: Staying Ahead of the Competition
By VanEck

Updated
Long-term outperformance defines the track record of Morningstar's success in identifying quality "moat" companies with sustainable competitive advantages that are also trading at attractive valuations. Since its live inception in 2007, the Morningstar® Wide Moat Focus IndexSM has outperformed the S&P 500® Index by more than four percentage points each year, as shown in the chart below.
Article continues below advertisement
U.S. Moat Investing Has Provided a Long-Term Performance Advantage
Index performance is not representative of Fund performance. Fund performance current to the most recent month-end can be found at www.vaneck.com/moat. Past performance is no guarantee of future results.
Market Realist – Moat companies offer long-term outperformance compared to benchmarks
"Moat investing" refers to a company's ability to stay ahead of the competition by maintaining a sustainable growth rate and protecting its market share from competitors. To put it simply, "moat" companies have a competitive advantage that helps them create long-term value for all stakeholders. A competitive advantage could be access to a cutting-edge technology, the availability of quality raw materials at a cheaper rate, or product and service differentiation.
Article continues below advertisement
Market Realist – The Morningstar Wide Moat Focus Index
The Morningstar Wide Moat Focus Index (MOAT) comprises companies (BIIB) (AMZN) with sustainable competitive advantages, as determined by Morningstar. Morningstar selects the constituents based on quantitative and qualitative factors. The index provides exposure to companies (TIF)(VAR) with Morningstar Economic Moat Ratings trading at a lower market price than their intrinsic values. As of June 30, 2016, the index comprised two sub-portfolios of 40 companies each.
Though the live inception date of the index is October 17, 2007, the performance inception date is September 30, 2002. As the chart above shows, the index has outperformed the broader benchmark by a wide margin. The total return index is up by a whopping 164.8% compared to the 84.7% gain in the S&P 500 index.