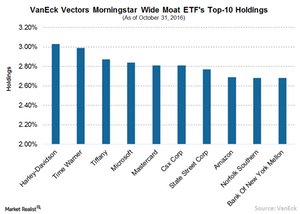 Moat Investing: Identifying the Winners
By VanEck

Updated
Identifying the Heavy Hitters
What is a big league batting average? In professional baseball, look no further than outfielder Ty Cobb, who currently holds the sport's highest career batting average 0.366, or 36.6%. This means that Cobb successfully registered a hit in nearly four out of ten at-bats during his career in the early 1900s. To be elected to the National Baseball Hall of Fame, it is generally accepted that if a professional player can average a hit in one-third of his at-bats over a career, he may eventually get the nod.
Article continues below advertisement
Market Realist – Moat companies are likely to be winners in the long term
Morningstar's research and investment philosophy is based on the concept of an economic moat (MOAT). Morningstar believes companies (AMZN) (BK) with a competitive advantage can earn higher returns on capital over a longer period. In other words, these companies can hit higher average returns over a given period compared to companies that don't have a competitive advantage. "Structural competitive advantage," as defined by Morningstar, allows companies to protect their market share in a dynamic business environment.
Morningstar further believes that buying the stock of a company is akin to buying a portion of the business. As a result, comprehensive evaluation of a business is necessary in order to ensure long-term gains from investing. Companies with wide economic moats (MSFT) (CSX) can maintain competitive advantages for a longer period.
The MOAT ETF includes some of the top moat companies in its portfolio. As of October 31, 2016, the ETF has the highest exposure to Harley-Davidson (HOG) at 3.0%, followed by Time Warner (TWX) at 3.0%, Tiffany (TIF) at 2.9%, Microsoft (MSFT) at 2.8%, and Mastercard (MA) at 2.8%. Many of these companies are growing at a sustainable rate, providing an advantage to the MOAT ETF compared to other ETFs.