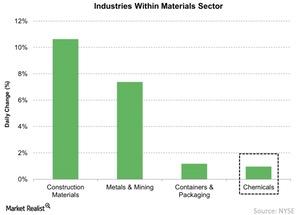 Materials Sector and Chemical Industry Rose after Trump's Victory
Industries within materials
On November 9, the materials sector rose ~2.1%, as we discussed in the first part of this series. The construction materials industry rose 10.6% on the back of Trump's heavy emphasis on infrastructure. He even mentioned infrastructure (XLB) in his victory speech. He said, "We are going to fix our inner cities and rebuild our highways, bridges, tunnels, airports, schools, hospitals. We're going to rebuild our infrastructure, which will become, by the way, second to none, and we will put millions of our people to work as we rebuild it."
Article continues below advertisement
Next in line
The metals and mining industry rose 7.4%. It isn't surprising given that Trump intends to "put American steel made by American workers into the backbone of America's infrastructure." Naturally, steel companies gained on the back of Trump's victory.
The containers and packaging industry also rose 1.2%. The industry primarily services food and beverage, pharma, and household products. With healthcare expected to gain and Trump's intention to create jobs, the containers and packaging industry will also benefit. Keep in mind that consumer discretionary rose by 18 basis points, while consumer staples fell 1.3%.
Chemicals
The chemicals industry includes companies such as CF Industries (CF), Monsanto (MON), Dow Chemicals (DOW), and Mosaic (MOS). The industry rose ~1% yesterday. The chemicals industry may have risen as a result of Trump's emphasis on tapping non-renewable energy resources in the US. We'll discuss this more in the next part of this series.