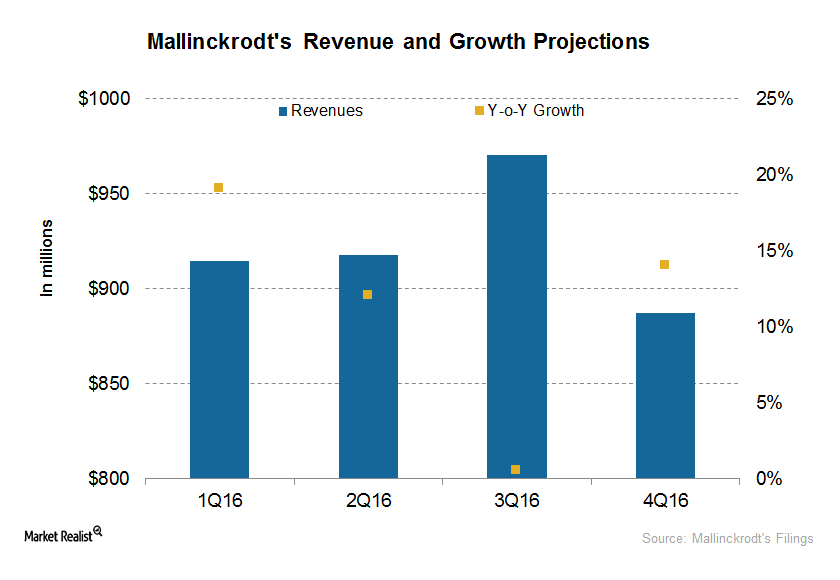 Mallinckrodt's Revenue Growth in Fiscal 4Q16
Mallinckrodt's revenue and EPS in fiscal 2016
UK-based Mallinckrodt (MNK) released earnings for its fiscal 4Q16 and fiscal 2016 on November 29. On an annual basis, MNK's net sales soared by 16% to $3.4 billion in 2016.
In 4Q16, Mallinckrodt's net sales stood at $887.2 million—a 14% rise. The strong performance of the Specialty Brand segment anchored this robust growth. The Specialty Brand segment, in fact, offset the fall in the Specialty Generics segment, which is expected to remain under pressure in 2017 as well.
During the fourth quarter of 2016, MNK reported GAAP (generally accepted accounting principles) diluted EPS (earnings per share) of $1.01. Its non-GAAP EPS stood at $2.04 during the quarter.
Article continues below advertisement
Why did Mallinckrodt fall after its latest earnings release?
Despite its better-than-estimated performance, Mallinckrodt's shares fell by 9% on November 29. The weaker generics business in 2017, the over one-third contribution by Acthar, the temporary production issue with Therakos business, and the withheld 2017 guidance left investors wondering about top line growth in 2017. The fall seems to be investor's overreaction.
Along with Mallinckrodt, Valeant Pharmaceuticals (VRX), Endo International (ENDP), and Teva Pharmaceuticals (TEVA) are exposed to risk associated with falling generics business. Risk-averse investors can choose to invest in ETFs such as the First Trust Health Care AlphaDEX Fund (FXH), which has ~1.8% of its total holdings to Mallinckrodt.
Continue to the next part for a look at Mallinckrodt's segmental performance.