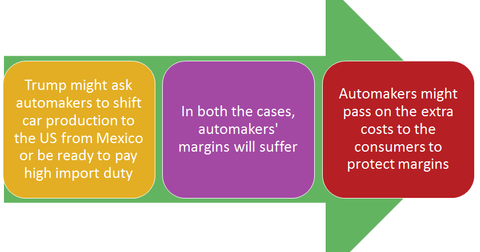 Making America Great Again: Will Car Buyers Pay the Price?
By Jitendra Parashar

Nov. 10 2016, Published 8:56 a.m. ET
US presidential election 2016
Previously, we looked at how Ford (F) might find itself in trouble following Donald Trump's unexpected victory. During the campaign, Trump targeted Ford on many occasions. In fact, he started the first presidential debate by criticizing Ford's investments in Mexico. He said that the company is responsible for taking jobs away from the US. Is Ford the only automaker that manufactures cars in Mexico?
Let's find out the answer and see who might end up paying the cost to make America great again.
Article continues below advertisement
Auto industry margins
Auto manufacturing is a capital-intensive business that requires huge investments in raw materials, plants, machinery, and manpower. Due to high competition at the global level, automakers are forced to take cost-cutting measures to protect their profitability. Automakers also try to minimize their costs by building car manufacturing and assembling facilities in places where wages are low and operational expenses are lower.
It's the primary reason why mainstream auto giants prefer to manufacture cars in Mexico. Ford isn't the only automaker that's manufacturing cars in Mexico. Other automakers (IYK) including General Motors (GM), Ford, Toyota (TM), and Fiat Chrysler (FCAU) also produce cars in facilities in Mexico. They sell the cars in the US market. It helps the companies protect their margins.
Possible impact on car buyers?
After Trump's victory in the US presidential election, it might be difficult for automakers to continue shifting their car production to Mexico or any other cheaper place outside the US.
Earlier, Trump expressed his disapproval of free trade agreements such as NAFTA (North America Free Trade Agreement). If he acts as promised and automakers unwillingly shift their manufacturing facilities to the US, then auto buyers might be the net losers. In such a scenario, automakers won't have a choice but to pass on the higher manufacturing cost to consumers.
Therefore, it will be interesting to see if Trump manages to keep his promise to boost the US jobs market without hurting automakers and consumers.
In the next part, we'll discuss how Trump's victory impacts electric vehicle development.