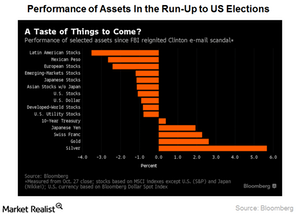 Major Banks: Is Gold the Winner in the Run-Up to the Elections?
By Anuradha Garg

Nov. 4 2016, Updated 12:04 p.m. ET
HSBC thinks gold is a winner
HSBC Bank is suggesting that investors should buy gold regardless of the outcome of the US presidential election on November 8, 2016. The investment bank believes a Donald Trump victory would be more supportive for gold, but it foresees a rise of at least 8.0% in gold prices no matter who wins the election.
HSBC's chief precious metals analyst James Steel believes that the price of gold could rise significantly to $1,500 per ounce if Trump wins. If Clinton wins, he things gold could end up at $1,400 per ounce by the end of the year.
Article continues below advertisement
Other banks' views
Citigroup believes that the elections don't influence gold prices very much, but that a Trump win could give it a major boost. It said, "We expect a Trump win would bring out higher volatility in gold and forex, which in turn should lead to higher volumes in other precious metals."
Wells Fargo has a different view on the outlook for the price of gold. According to a report by analyst John LaForge in early October, "The history of gold, and commodity super-cycles, says that gold may very well lose another $200/oz., testing the $1,050 level, before it is time to buy again."
ABN Amro Bank is also bearish on the outlook for gold. It revised its gold price forecasts downward to $1,200 per ounce for 2016 and $1,150 per ounce for 2017. According to Amro's precious metals strategy analyst Georgette Boele, "Gold prices have fallen and broken below the 200-day moving average. This means that this year's uptrend is over. We have revised downwards our gold price forecasts because we think that investors will continue to liquidate."
The executive director for commodities and foreign exchange at UBS Group believes that while a Trump win could cause the price of gold to rise to $1,400 per ounce, a Clinton win could cause it to fall $20–$30 per ounce.
Takeaway for gold investors
Although major banks differ in their views about gold after the elections, one thing is fairly clear. Most of them believe a Trump win would be more supportive of gold (GLD) in the short term. A Trump win would be supportive of all gold equities but particularly the more levered ones such as Barrick Gold (ABX), Kinross Gold (KGC), Iamgold (IAG), and Coeur Mining (CDE).
Keep in mind that these stocks could also be the ones to lead in losses if gold comes under other pressure from the election results or from Fed rate hike fears.