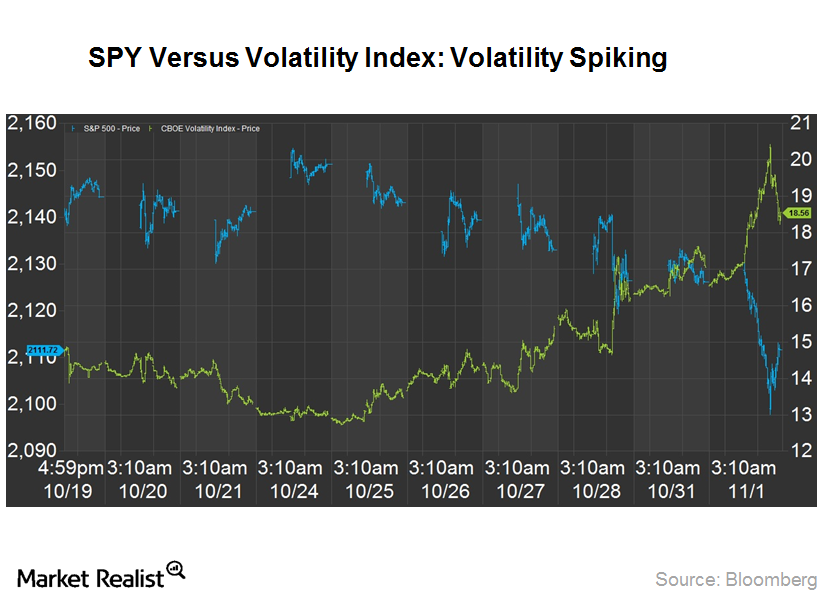 Gauging Market Sentiment before the US Elections
By Anuradha Garg

Nov. 20 2020, Updated 11:29 a.m. ET
US elections draw near
While Americans evaluate the promises of US presidential nominees Donald Trump and Hillary Clinton, investors are busy evaluating their portfolios in light of either nominee's victory. The stock markets (SPY) are becoming more and more jittery as the November 8, 2016, elections draw near.
Although the odds of Clinton winning are more than a Trump win, the markets don't want to be caught unaware like they were after the Brexit vote in June 2016. Among other things, a Clinton win could mean support for Asian and European trade as well as the independence of the Federal Reserve. With a Trump win, that could change.
Article continues below advertisement
Fear gripping the markets
The VIX (Volatility Index), which measures the implied volatility of the S&P 500, has risen more than 40.0% in the last six days. The index also spiked after the Brexit vote in the United Kingdom. What this means is that the market is growing restless about the upcoming election results and the ensuing uncertainty.
Traders looking to hedge their positions are turning to the options market, which is leading to increased volatility. This volatility is supporting gold (GLD) as well as gold miners (GDX).
The S&P 500 Index fell 1.4% in the first two trading days of November, but miners' stocks have risen. Those miners include First Majestic Silver (AG), Eldorado Gold (EGO), Harmony Gold Mining (HMY), and Barrick Gold (ABX), which rose 8.5%, 4.7%, 3.6%, and 3.2%, respectively, in the same period.
While volatility is typically higher over the longer term, that trend has somewhat reversed in the run-up to the elections. According to the Wall Street Journal, citing Credit Suisse, "The implied volatility levels derived from S&P options that expire on Nov. 11 — the end of election week – rose Friday, and are currently higher than all other expiration dates going out to December 2017."
Mexican peso: Another go-to indicator
The losses and gains in the Mexican peso (EWW) are another significant barometer to test market sentiment at this stage. Trump has made his intentions clear that if he's elected president, he will create trade barriers with Mexico. That's why the odds of a Trump win and the Mexican peso are inversely related.
The peso fell to a low of about 20 pesos per US dollar in September. It bounced back after the odds of a Trump win went down. After the first presidential debate, the peso rose about 3.0% when it was declared that Clinton dominated the debate. Now, with news of the FBI probing Clinton's emails, the peso has started to fall once again.