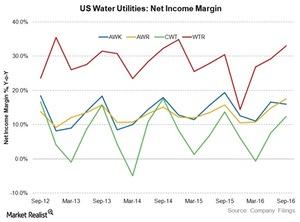 These Factors Have Been Affecting Water Utilities' Earnings
US water utilities' flat earnings
The US water utility companies we've been considering so far in this series are largely regulated utilities, and so for the most part, their consolidated earnings come from regulated operations.
US water utilities have witnessed a cyclical but flat earnings growth pattern in the past couple of years. Specifically, lower water usage and increased efficiency practices have hampered the financial performance of water companies.
Article continues below advertisement
Factors impacting earnings
The chart above depicts the net income margin of leading US water utilities for the past couple of years. American Water Works' (AWK) net income margin averaged around 15% in the past couple of years—one of the highest among peer water companies.
During its 3Q16 earnings call, AWK's management estimated an O&M (operations and maintenance efficiency) ratio of 34% by 2020. This means that for every $1 saved by AWK in operations, it can invest $7 in capital without impacting customers' bills. In 3Q16, AWK's O&M ratio was 34.9%.
Notably, AWK generates nearly 85% of its total earnings from regulated operations, and the rest it gets from its market-based operations. But most of AWK's infrastructure has been nearing the end of its useful life. Consequently, AWK's current capital spending plan focuses primarily on improving its infrastructure, which could bode well for the company's growth going forward.
Trump's water plan
Donald Trump's victory in the 2016 US Presidential elections may bode well for water utilities as well. Trump has expressed that one focus of his would be on securing clean water for everyone, and his emphasis on boosting infrastructure spending could also bode well for water utilities' growth.
By comparison, electric utilities' (XLU) earnings growth is higher than that of water utilities (PIO). The regulatory framework plays an important role in driving utilities' earnings. Notably, many electric utilities are expanding into regulated gas distribution, midstream, and renewables, which also facilitate higher earnings growth.