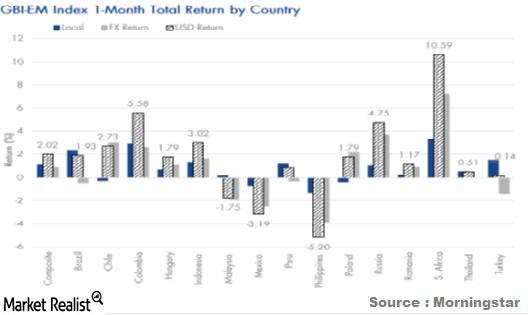 Local Currencies Fuel the Emerging Market Rally
By VanEck

Nov. 9 2016, Published 11:43 a.m. ET
Strong Local Currency Performance As Rates Remain Steady
Returns in the emerging markets debt space have so far in 2016 ranked commensurately with risk. More specifically, local debt has been the top performer, with a total return of 17.08% YTD after a very strong September (2.02%). Although local sovereigns are lower duration by nearly two years versus U.S. dollar sovereigns, currency risk has tended to be a major factor in volatility and returns (though currency movements explain only about 40% of this year's return through the end of September). Hard currency corporate debt has actually lagged hard currency sovereign debt, but when one considers the greater than two year duration difference between the asset classes in a year when U.S. Treasury yields have moved significantly lower, the performance difference makes sense. In both the sovereign and corporate hard currency space, high yield has performed significantly better than investment grade.
Article continues below advertisement
South Africa, Colombia, and Russia were the top performing countries in the local space, while the Philippines, Mexico, and Malaysia posted negative returns, mostly on currency weakness. In contrast to most emerging markets currencies, the Mexican peso has depreciated 11% against the U.S. dollar. In addition to sluggish economic growth, much of the weakness has been attributed to the upcoming U.S. presidential election and the consequences of a potential Trump presidency. Further volatility is possible over the next month.
Hard currency bonds were impacted by U.S. rate movements in the first half of the month, but generally recovered by month end. Sovereign bonds returned 0.40%, with many of the riskier names outperforming as a result of both spread tightening and a lower duration versus higher quality issuers, which were more impacted by the steepening of the yield curve. The same was true for corporate bonds, which finished September with a small positive return overall (0.18%) while the high yield segment returned 1.14% for the month. Emerging markets high yield bonds yielded 0.51% more than U.S. high yield bonds at the end of September, and provided a pickup of 80 basis points in option-adjusted spread terms. The spread advantage tightened 20 basis points during the month, driven largely by an influx of Turkish bank "fallen angels" entering the BofA Merrill Lynch Diversified High Yield US Emerging Markets Corporate Plus Index (EMLH or the "Index"). Although these bonds are tighter than the rest of the overall Index, we believe these bonds are trading at spreads that are attractive for BB rated bonds.
Article continues below advertisement
Market Realist – Local emerging market bonds have outperformed other emerging market bonds 
Investors have two options when it comes to investing in emerging market bonds (EMLC)(HYEM). The first option is to invest in the dollar-denominated debt issued by the world's developing countries, called a hard currency bond. It completely nullifies the impact of currency risk as well as volatility associated with emerging market bonds. For local bonds, the investor will have to convert dollars to the foreign currency, such as the Brazilian real, prior to buying the bond. The result is that, in addition to the price movement of the underlying bond, the value of the investment is affected by foreign currency fluctuations. Emerging market local-currency bonds provide investors two distinct sources of return: local bond yields and potential currency appreciation.
Market Realist – The case for investing in local EM debts
The chart above depicts local- and hard-currency performance for the past several months. For the month ending September 30, 2016, emerging market local sovereigns returned ~ 17% on year-to-date (or YTD) and 2% monthly. During the same period, EM (emerging market) USD and EU sovereigns and EM USD corporates returned ~14% and ~12%, respectively.
EM currencies have underperformed for several years due to the strong US dollar trade. The asset class has performed quite well in 2016 so far. Many EM currencies haven't returned nominally to where they were before or where they were considered to be from the effective-exchange-rate point of view. Strengthening emerging market currencies or a weakening US dollar (UUP) should continue to bolster returns from local-currency emerging market bond ETFs.
The VanEck Vectors J.P. Morgan EM Local Currency Bond ETF (EMLC) tracks currency-denominated emerging market bonds. It could prove to be a good opportunity for investors. The ETF holds net assets worth more than $2.28 billion, and it sports a duration of 5.01 years as well as a 30-day Securities and Exchange Commission or SEC yield of 5.54%. The ETF was giving stellar year-to-date returns of 16.28% on a net asset value basis and 16.71% on a share price basis as of November 3, 2016.