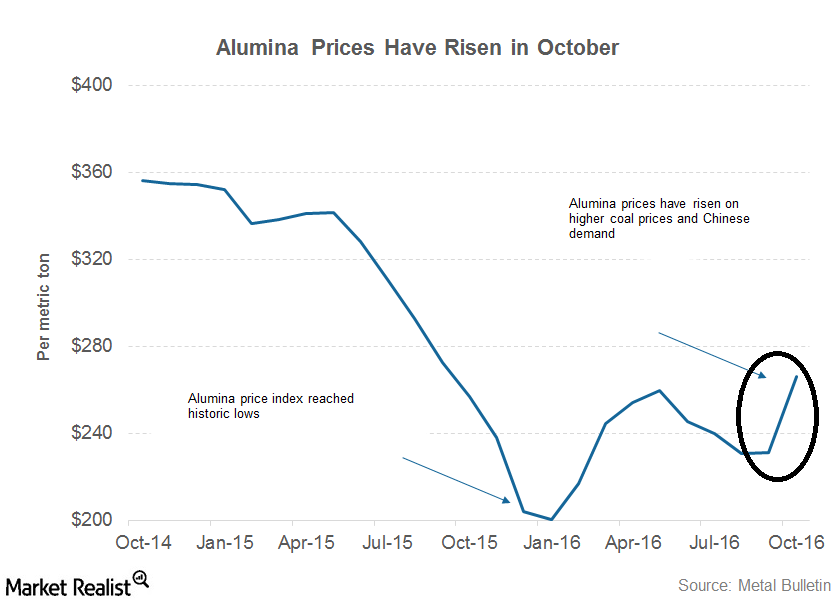 Life Beyond Trump: What's Driving Aluminum Prices This Month?
Aluminum prices
As we've already seen, aluminum prices have been strong in November with the LME (London Metal Exchange) three-month aluminum contract hovering around $1,800 per metric ton. Higher aluminum prices would support the earnings of aluminum producers, including Alcoa (AA), Century Aluminum (CENX), and Norsk Hydro (NHYDY).
There's been an overall broad-based rally in commodity prices since Donald Trump won the US presidential election. But several fundamental factors are also supporting aluminum prices, as we'll see in this part.
Article continues below advertisement
Higher input costs
According to recent reports, weight limitations on trucks have been impacting aluminum transportation in China. According to a Wall Street Journal report, that could lead to higher transportation costs for Chinese producers (ACH).
Higher coal prices as a result of China's clampdown on coal mining and supply disruptions in Australia have led to a spike in seaborne coal prices. Rising coal prices have raised unit production costs for alumina refiners that don't have access to captive coal sources.
Higher coal prices have helped fuel a rally in alumina prices. Since input costs have spiked for aluminum smelters as a result of higher alumina prices, aluminum prices are getting a natural boost.
It's worth noting that we could now see a pullback in coal prices (KOL) since China has relaxed its mining rules to allow mines to be open for 330 days.
Supply deficit
At the beginning of the year, some analysts were projecting a record surplus for aluminum markets on higher Chinese supply. However, the markets seem headed for a deficit this year. Surplus can be defined as production in excess of demand while the markets are in a deficit if demand exceeds production.
In the next part of the series, we'll look at aluminum's demand-supply equation so we can see where aluminum markets could be headed in 2016.