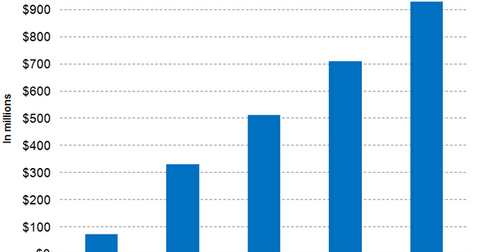 Kyprolis Is Still a Leading Second-Line Multiple Myeloma Therapy
By Margaret Patrick

Updated
Kyprolis growth trends
Amgen (AMGN) is focused on positioning Kyprolis as a leading multiple myeloma (or MM) therapy for relapsed MM patients. The drug continues to witness strong growth trends across the world due to increased demand in the United States and strong early uptake in multiple European markets, including Germany. 
While increasing competition from other MM drugs launched by peers such as Merck & Co. (MRK), Celgene (CELG), and Johnson & Johnson (JNJ) has had a negative impact on Kyprolis' third-line MM market share, the drug has managed to maintain growth in its second-line MM segment. To know more about Kyprolis, read What Could Drive Amgen's Kyprolis Sales in 2016?
Wall Street analysts have projected that Kyprolis's sales will reach about $708.8 million in 2016, a year-over-year (or YoY) rise of ~38.4%.
If Kyprolis manages to surpass this revenue target, it could boost Amgen's share price as well as the price of the iShares Nasdaq Biotechnology ETF (IBB). Amgen makes up about 6.6% of IBB's total portfolio holdings.
Article continues below advertisement
Second-line MM therapy
Data from Endeavour and Aspire, two major Phase 3 trials, have strengthened Kyprolis's label as a second-line therapy for MM. Additionally, National Comprehensive Cancer Network (or NCCN) guidelines have recommended triplet therapy—Kyprolis plus Revlimid and dexamethasone—as well as doublet therapy—Kyprolis plus dexamethasone—as preferred regimens for second-line MM.
Amgen is also actively involved in advancing Kyprolis as a first-line MM therapy. The company is designing a study to explore a therapy involving a combination of Kyprolis, dexamethasone, and Revlimid for transplant-eligible first-line MM patients.
Amgen may also co-fund a study with Janssen Biotech to explore the use of Kyprolis as a combination therapy with daratumubab and dexamethasone in relapsed or refractory MM. The company has completed enrollments for a Phase 3 study that aims to explore whether the once-a-week administration of Kyprolis will be effective in third-line MM.
In the next article, we'll explore the growth prospects of Amgen's cardiovascular drug, Repatha, in greater detail.