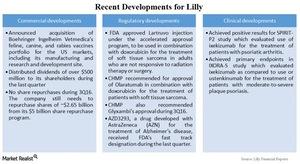 Key Investor Insights into Eli Lilly's Recent Developments
By Mike Benson

Updated
Recent developments
As we discussed in previous parts of this series, Eli Lilly and Company's (LLY) segment-wise performance in 3Q16 was positive for both its Human Pharmaceuticals and Animal Health segments.
Article continues below advertisement
Commercial developments
The recent commercial developments for Lilly include the announced acquisition of Boehringer Ingelheim Vetmedica's feline, canine, and rabies vaccines portfolio for US markets, including its manufacturing and research and development site.
Regulatory developments
The FDA (US Food and Drug Administration) approved the company's Lartruvo injection, also known as Olaratumab, under the accelerated approval program, to be used in combination with Doxorubicin for the treatment of soft tissue sarcoma in adults who are not responsive to radiation therapy or surgery. The continuous approval will be dependent on the final results of confirmatory studies now in process.
Article continues below advertisement
The EMA's (European Medicines Agency) CHMP (Committee for Medicinal Products for Human Use) has recommended the approval of Olaratumab in combination with Doxorubicin for the treatment of patients with soft tissue sarcoma who cannot be treated with radiation therapy or surgery and have not previously been treated with Doxorubicin.
The CHMP also recommended Glyxambi's approval during 3Q16. Glyxambi has been developed in collaboration with Boehringer Ingelheim and is a combination drug combining Jardiance and Trajenta for the treatment of patients with type-2 diabetes.
AZD3293, an oral BACE inhibitor developed with AstraZeneca (AZN) for the treatment of Alzheimer's disease, received a fast-track designation from the FDA in 3Q16.
Clinical developments
Lilly also achieved positive results for its SPIRIT-P2 study, which evaluated the use of Ixekizumab for the treatment of patients with psoriatic arthritis. Detailed data is expected in 2017.
The company also achieved primary endpoints in its IXORA-S study, which evaluated Ixekizumab compared to Ustekinumab for the treatment of patients with moderate-to-severe plaque psoriasis.
Revised financial guidance 2016
Lilly has revised a few parameters in its financial guidance for 2016. The guidance for estimated revenues has been changed to between $20.8 billion and $21.2 billion, which would nearly 4.2%–6.2% higher than its 2015 revenues of $19.96 billion.
The guidance for marketing, selling, and administration expenses has been revised to $6.2 billion–$6.4 billion for 2016. Other income estimates and capital expenditure estimates have been revised to be between $50 million–$100 million for 4Q16 and to ~$1 billion for 2016.
To divest risk, investors can consider ETFs like the PowerShares Dynamic Pharmaceuticals Portfolio ETF (PJP), which has ~4.4% of its total assets in Lilly. PJP also has ~4.7% of its total assets in Amgen (AMGN), ~5.2% of in Bristol-Myers Squibb (BMY), and ~4.9% in Allergan (AGN).