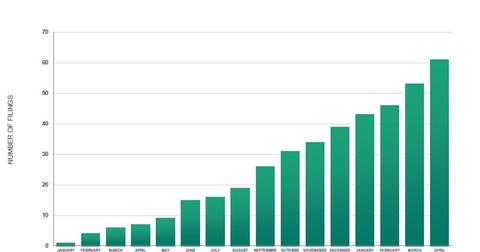 Is Bankruptcy a Trend in the Oilfield Services Industry?
By Alex Chamberlin

Nov. 28 2016, Updated 10:04 a.m. ET
Are some OFS companies at risk of bankruptcy?
Let's explore whether weakness in the energy market has led oilfield equipment and services (or OFS) companies to file for bankruptcy. Lower upstream activity in 2015 reduced oilfield services companies' revenues and profits, negatively affecting energy service companies' ability to service debt.
In addition, many OFS companies that had leveraged up earlier when shale production was booming are now left with weaker balance sheets.
Article continues below advertisement
Of course, large rig equipment makers and rig-related technology providers such as Schlumberger (SLB), Baker Hughes (BHI), and Halliburton (HAL) have been relatively insulated due to their strong balance sheets and relatively solid businesses. Many smaller companies have been hit hard, however. Schlumberger makes up 0.59% of the SPDR S&P 500 ETF (SPY).
Bankruptcy plagues the OFS industry
According to Haynes and Boone, a US law firm, more than 60 OFS companies filed for bankruptcy in 2015 and the first four months of 2016. In aggregate, these companies accumulated $8.2 billion in debt. Among these, the largest and most well-known OFS companies were Paragon Offshore, Vantage Drilling, and Hercules Offshore.
On June 3, 2016, Seventy Seven Energy, another OFS company, filed for bankruptcy. Read Market Realist's Which Oilfield Service Companies Are in Danger of Bankruptcy? to learn more.
Is Weatherford International afflicted by high leverage?
On November 1, 2016, Weatherford International (WFT) disclosed that based on its 4Q16 forecast, it meets its debt covenants. Weatherford's disclosure came after a sudden rise in the volatility in its share price following some analysts' forecasts that it would fail to meet its debt covenants.
In May, credit rating agency Moody's downgraded Weatherford International's corporate family rating (or CFR) and downgraded its bonds to a high default risk rating. These actions were led by Weatherford's cash flow constraints and possible liquidity concerns. Read Market Realist's Did Weatherford International Violate a Debt Covenant? to know more.
Next, let's discuss merger and acquisition trends in the OFS industry.