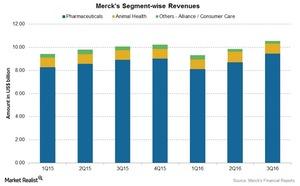 Inside Merck's Business Segment-Wise Performance
By Mike Benson

Updated
Merck's revenue 
Merck (MRK) reported a growth of 5% in its revenues of ~$10.5 billion in 3Q16. The company reported an operational growth of 6% during 3Q16, but a 1% negative impact of foreign exchange partially offset this growth.
The company has also revised its estimates for its fiscal 2016 sales to be between $39.7 billion and $40.2 billion, including a ~2% negative impact of foreign exchange.
The above graph shows the revenues of each of Merck's business segments over the past few quarters. As the company has operations in over 100 countries, and ~55% of total revenues are from sales outside US markets, the company is largely exposed to currency risks. The impact of foreign exchange on the company's revenues has led to negative growth in absolute figures.
Article continues below advertisement
Global Human Health  
The Global Human Health (or pharmaceuticals) segment, the highest-revenue-generating segment, contributed nearly 89.6% of total revenues in 3Q16, as compared to 88.6% of total revenues for 3Q15. This segment includes oncology, vaccines, hospital acute care, diabetes, other primary care, and women's health.
There are also a few blockbuster drugs with yearly contributions of more than $1 billion. These drugs include Januvia, Janumet, Zetia, Vytorin, Remicade, Isentress, Gardasil, Proquad-Varivax, and Cubicin.
Januvia's competitors include Onglyza, which is jointly made by Bristol-Myers Squibb (BMY) and AstraZeneca (AZN), and Galvus from Novartis (NVS). Zetia's competitors include Niaspan from AbbVie (ABBV) and Lipitor from Pfizer (PFE).
Animal Health segment
The Animal Health segment's contribution remained constant at around 8.2% of total revenues in 3Q16, as compared to 3Q15. The growth of this segment is driven by increased revenues from companion animal products, including Bravecto, new aqua products, and swine products.
Merck's Animal Health segment competes with companies including Zoetis and Eli Lilly. To divest risk, investors can consider ETFs like the iShares S&P Global Healthcare ETF (IXJ), which has ~4.0% of its total assets in Merck.