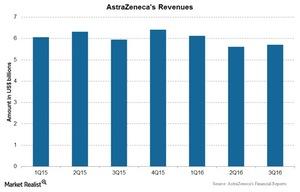 Inside AstraZeneca's Revenue Fall in 3Q16
By Mike Benson

Nov. 11 2016, Updated 6:04 p.m. ET
AstraZeneca's 3Q16 revenue
For 3Q16, AstraZeneca (AZN) reported a 4.1% fall in its top line at $5.7 billion. The decline was due to an expected drop in Crestor sales in US markets after the patent expiry and a fall in externalization revenues.
At constant exchange rates, the fall in revenues included 14% decline in product sales and ~50% decline in externalization revenues during 3Q16. The company estimates a low- to mid-single-digit fall in revenues for 2016, according to its financial guidance.
The above graph shows the revenues of AstraZeneca in each quarter. As the company has operations in over 100 countries—and ~64% of total revenues are reported from sales outside US markets—the company is largely exposed to currency risk.
Article continues below advertisement
Growth platforms
AstraZeneca reported a gradual shift of positive contributors from key drugs like Nexium and Synagis to new products in growth platforms, including Brilinta and new oncology products. The revenues from growth platforms rose 6% at constant exchange rates, contributing nearly 63% of total 3Q16 revenues for AstraZeneca. (Keep reading this series for details about the company's individual growth platforms.)
Segment-wise performance  
AstraZeneca's business is divided into four segments. The Cardiovascular and Metabolic Diseases segment is the highest revenue contributing segment, with contributions of around 32.4% of total revenues. At constant exchange rates, this segment's revenues fell 21% in 3Q16 due to the fall in Crestor sales after its patent expiry. Onlgyza, Atacand, Bydureon, and Byetta also showed weak performances.
The Respiratory, Inflammation, and Autoimmunity segment is another important segment for AstraZeneca's growth platform. At constant exchange rates, the segment's revenues fell 10% during 3Q16, with lower sales of Symbicort, and Tudorza-Eklira, partially offset by increased revenues of Pulmicort, and other drugs including Duaklir, and Daliresp.
Article continues below advertisement
The Oncology and Other segments
The Oncology segment is now included in the growth platform. New products like Tagrisso and Lynparza are expected to drive the growth in this segment in coming years. At constant exchange rates, the segment's revenues rose 19% in 3Q16, after the strong performance of Tagrisso, Lynparza, and Faslodex, partially offset by lower sales of Iressa and legacy products Zoladex, Casodex, and Arimidex.
Notably, Iressa is exposed to competition from other EGFR inhibitors, including Tykerb from Novartis (NVS), Erbitux from Eli Lilly (LLY), and Vectibix from Amgen (AMGN).
The Other segment includes drugs from the company's infection, neuroscience, and gastrointestinal franchises and is the second-largest revenue contributor for AstraZeneca, making up ~21.1% of total revenues in 3Q16. At constant exchange rates, the segment's revenues fell ~22% in 3Q16 following the weak performance of its drugs, including Nexium, Seroquel, Synagis, and FluMist.
The company also reported ~$674 million in externalization revenues in 3Q16.
To divest risk, investors can consider ETFs like the First Trust Value Line Dividend ETF (FVD), which has ~0.5% of its total assets in AstraZeneca.