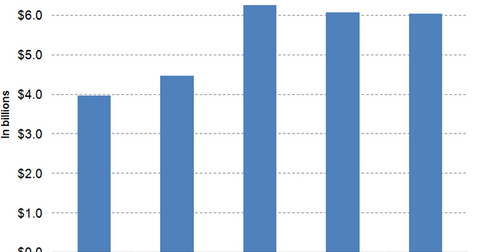 Innovative Research in Vaccines May Boost Pfizer's Revenues
By Margaret Patrick

Nov. 20 2020, Updated 4:35 p.m. ET
Vaccines segment
Prevnar, Pfizer's (PFE) blockbuster vaccine therapy, is expected to see a slowdown in revenue growth in the United States. The slowdown is mainly due to the initial high capture rate among the target population after the launch of the Prevnar 13 variant in 4Q14. The capture rate resulted in a smaller growth opportunity for the future since the vaccine is administered only once in a lifetime.
In 3Q16, however, Pfizer witnessed a slight increase in Prevnar sales, mainly due to an increased demand from adult patients during the flu season. A significant portion of the revenues was contributed by international markets. To know more about Prevnar's growth trends, please refer to Interesting Trend Developing for Pfizer's Pneumococcal Franchise.
Wall Street analysts have projected that Prevnar revenues will fall year-over-year by about 2.8%, from $6.2 billion in 2015 to $6.0 billion in 2016.
If Pfizer manages to stop the fall of Prevnar revenues, it may have a positive impact on the company's share price. Stopping the fall may also benefit the iShares MSCI USA Minimum Volatility (USMV). Pfizer makes up about 1.1% of USMV's total portfolio holdings.
Article continues below advertisement
Investigational vaccines
In addition to Prevnar, Pfizer also has a few investigational vaccines in its research pipeline. The company is currently researching the staphylococcus aureus vaccine to prevent staphylococcus aureus infections in patients after elective spinal fusion surgeries.
According to a Pfizer press release, "Surgical Site Infections (SSIs) are a significant and growing concern. SSIs caused by S. aureus account for approximately 20 percent of all SSIs in the U.S., and are associated with an estimated annual treatment cost of $12.3 billion in the U.S.2,3 Patients who suffer such infections due to antibiotic resistant (MRSA) or antibiotic sensitive (MSSA) S.aureus have worse clinical outcomes, including increased mortality in comparison with non-infected patients."
These statistics confirm the extent of Pfizer's opportunity in the vaccines segment.
Pfizer is also exploring the investigational Clostridium difficile vaccine in a Phase 2 clinical trial. Data from this trial are expected by the end of 2016. The company is also planning a Phase 3 trial for this vaccine in the first half of 2017.
These developments are expected to help Pfizer become a prominent player in the vaccines space, similar to peers GlaxoSmithKline (GSK), Sanofi (SNY), and Merck & Co. (MRK).