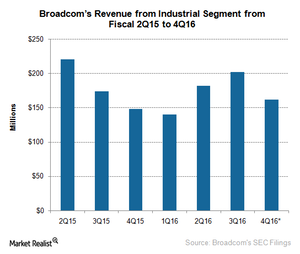 Why Broadcom's Industrial Segment Is a Growth Deterrent
Broadcom's Industrial segment
In the previous part of this series, we saw that Broadcom (AVGO) is looking to grow its Enterprise Storage business in the long term through acquisitions. The company's Industrial segment hasn't seen major growth in over five quarters.
The Industrial segment serves the industrial, consumer, medical, automotive, military, and aerospace markets. The segment's offerings include optical sensors, industrial fiber optics, LEDs (light-emitting diode), and displays. It also includes Broadcom's IP (intellectual property) licensing business.
Article continues below advertisement
Industrial segment's earnings potential
Broadcom's Industrial segment is its lowest revenue contributor. The segment's revenue has ranged between $140 million and $200 million in the past six quarters. For fiscal 4Q16, Broadcom expects its Industrial segment's revenue to fall 20% sequentially due to seasonal weakness. However, the company expects its industrial product resale to continue to rise in the mid-single digits percentage-wise in the quarter.
In the industrial space, Broadcom is a small player, competing with giants such as Texas Instruments (TXN) and Analog Devices (ADI). Both rivals reported falls in their industrial segments due to seasonal weakness.
However, the industrial market is likely to grow in the future as economic growth spurs industrialization. Moreover, the newly elected president of the United States, Donald Trump, is also an advocate of industrialization and is looking to bring production back to the United States.
A rise in industrialization could boost demand for industrial automation. Moreover, the advent of VR/AR (virtual/augmented reality) in the medical, defense, and industrial markets could increase the demand for high-quality displays.
Broadcom's future plans for the Industrial segment
In the short term, Broadcom has no plans to boost growth in the Industrial segment. However, a rise in demand for industrial semiconductors in the future could encourage the company to expand the segment.
According to analysts, Maxim Integrated (MXIM) could be an ideal acquisition target for Broadcom for growth in the Industrial space. However, this acquisition will only be possible if Texas Instruments ignores analysts' lobbying for it to acquire Maxim.
Next, we'll look at Broadcom's leverage to understand its capacity to undertake acquisitions in the short and long terms.