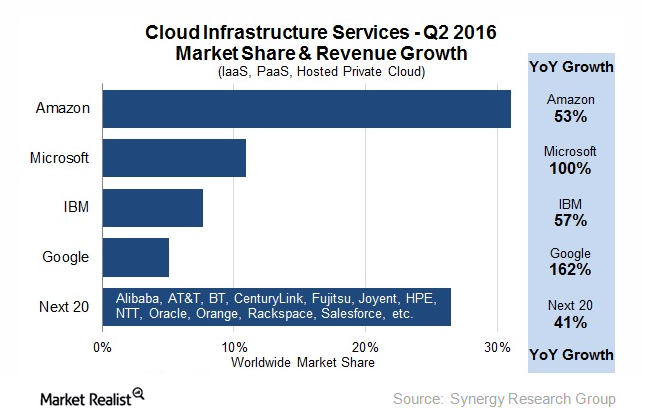 Why IBM's Rise in Data Center Capacity Holds Importance
By Anne Shields

Dec. 2 2016, Updated 11:04 a.m. ET
IBM targets the United Kingdom to increase its data center capacity
Earlier, we learned that IBM's (IBM) initiatives and strategic acquisitions to strengthen its presence in the IoT (Internet of Things) space have started to pay off. The company was named a leader in the IoT space by Forrester and IDC (International Data Corporation).
Recently, IBM announced its plans to add four new cloud data centers integrated with cognitive intelligence in the United Kingdom (EWU). Through its data centers, IBM intends to provide Bluemix, Watson Analytics, blockchain offerings, and backend and analytics platforms for IoT.
IBM isn't the only player to open new data centers in the cloud space. By 2017, Amazon plans to have an AWS (Amazon Web Services) "region," which will include different AWS data centers. In September 2016, Microsoft (MSFT) opened its first two UK data centers.
In late 2015, Oracle's (ORCL) management shared that it had increased its data center delivery capacity from 0.5 megawatts to 45 megawatts, a whopping 90x rise.
Article continues below advertisement
Investment in data centers enhances competitiveness in the cloud space
The SMAC (social, mobile, analytics, and cloud) revolution has given rise to data center requirements. According to a combined study done by Cisco Systems (CSCO), IDC, and Gartner, by 2018, ~78% of workloads are likely to be processed by cloud data centers, whereas traditional data centers will process the remaining 22%.
According to Jeremy Duke, Synergy Research Group's founder and chief analyst, "While total spending on data center infrastructure remains relatively flat, cloud share of that spending continues to rise as an ever-increasing portion of computer workloads migrate to either public or private clouds."
It's Amazon's (AMZN), Microsoft's, IBM's, and Google's (GOOG) investments in data centers that set them apart from their peers.
John Dinsdale, research director at Synergy Research Group, said, "What marks them out as different is their global presence, marketing muscle, ability to fund huge investments in hyperscale data centers and, in most cases, a determination to succeed in the market. "
In early 2016, RBC Capital reported that Amazon, Microsoft, and Google collectively spent ~$26 billion in capital expenditure in 2015. Google alone invested ~$10 billion to build its cloud operations in 2015. The majority of this capital went toward cloud and data centers. According to Data Center Knowledge, cloud service providers consistently say that spending on data centers forms the biggest portion of their budgets.