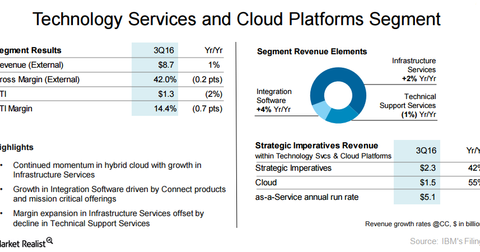 How Are IBM's Global Technology Services Performing?
By Anne Shields

Updated
Strategic Imperatives continued to drive growth in IBM's GTS segment
Earlier in the series, we discussed IBM's (IBM) acquisition of Sanovi Technologies, which would enhance IBM's position in the hybrid cloud space, which is expected to see increasing adoption. IBM will likely integrate Sanovi into its Global Technology Services (or GTS) business.
Let's take a look at the company's Technology Services and Cloud Platforms segment's performance. This segment encompasses the GTS business and IBM's cloud infrastructure and platform capabilities.
In 3Q16, IBM's GTS revenue accounted for ~45% of its total revenue. As a result, its performance is crucial to IBM's overall growth. In 3Q16, this segment rose 2.4% to $8.8 billion, as the above chart shows. In constant currency terms, the segment rose 1.4%.
The segment's Strategic Imperatives business's revenue rose 42% in constant currency terms. Hybrid cloud services played a prominent role in this revenue rise. IBM's cloud revenue rose 55% in the segment.
Article continues below advertisement
Amazon's focus on hybrid cloud could impact IBM's dominance
Though IBM leads in the hybrid cloud space, the recently announced partnership between VMware (VMW) and Amazon (AMZN) is likely to impact its dominance. Through this partnership, Amazon should gain a foothold in the hybrid cloud space.
Amazon is the undisputed leader in the cloud space. Amazon's magnitude can be gauged by the fact that while Microsoft (MSFT) and Oracle (ORCL) reported 100% and 152% rises, respectively, in the cloud space in 2Q16, they're still only one-third and one-sixth as large as Amazon in the space.
Amazon, known for its competitive behavior, has the funds, the scale, and the presence to compete in the hybrid cloud space. In this way, IBM is bound to face pressure on account of Amazon.