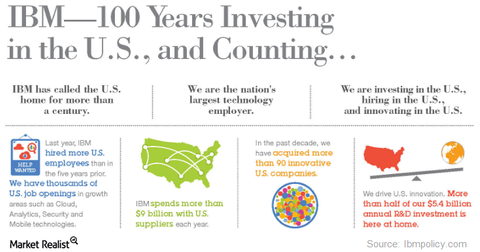 How IBM's CEO Responded to Trump's Allegations
By Anne Shields

Nov. 21 2016, Updated 10:04 a.m. ET
Rometty refutes Trump's claims
Earlier, we discussed how Donald Trump's presidency could affect IBM (IBM) and its peers. In response to the criticisms hurled by Trump on IBM, the company's CEO, Virginia Rometty, addressed these issues in an open letter to the president-elect.
In response to IBM's outsourcing of jobs to foreign countries, Rometty said that IBM, which has been in operation for the last 105 years, is the largest technology employer in the United States.
Article continues below advertisement
In 2015, IBM hired more US employees than in the last five years, and it still has thousands of vacant positions in cybersecurity, cognitive computing, artificial intelligence, and data science. Apart from IBM, Amazon (AMZN), Intel (INTC), and Microsoft (MSFT), leading players in the cloud space, are also making investments in these spaces.
These areas fall under IBM's Strategic Imperatives umbrella. The creation of new positions in these areas would lead to jobs. These new jobs won't necessarily require a college degree but will place more emphasis on relevant skills. As a result, skilled US workers who fit the criteria could be hired by IBM.
Apart from IBM, Trump also criticized Ford Motor Company (F) for its move to shift all of its small-car production to Mexico (EWW).
Rometty supports Trump's proposed tax rate reduction
Rometty expressed her support for Trump's investment plan on infrastructure development. She also lauded Trump's proposed reduction in the tax structure from its current 35% down to 10%. In September 2016, Trump said of cash held offshore, "By taxing it at 10% instead of 35%, all of this money will come back into our country."
Later in the series, we'll see why Trump may have been forced to reduce the tax rate.