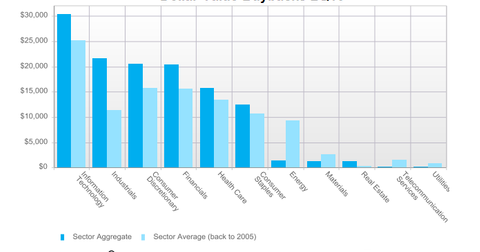 IBM and Its Peers Could See Rises in Stock Buybacks
By Anne Shields

Dec. 2 2016, Updated 10:04 a.m. ET
Stock buybacks expected to rise 30% in 2016
Recently, we discussed the potential impact of Donald Trump's presidency on technology players. Trump's proposed plan for a reduction in the current tax structure is expected to make it easier for the technology sector to repatriate cash.
IBM (IBM), like its technology peers, generates the majority of its revenue from abroad. Its cash reserves and its peers' cash reserves are also held abroad.
A lower income tax rate could provide technology companies with the flexibility to fund growth by investing in R&D (research and development) while adhering to their usual policies of returning cash to shareholders through stock buybacks and dividends.
Citing a recent Goldman Sachs (GS) report, MarketWatch stated that S&P 500 companies are likely to spend $780 billion on stock buybacks in 2017, a rise of 30% on a YoY (year-over-year) basis. As expected, tax reforms and cash repatriation were cited as the factors responsible for this rise.
Article continues below advertisement
Goldman Sachs analysts believe that stock buybacks will account for the greatest share of cash use by S&P 500 companies for the second time in 20 years. Companies are expected to spend a total of $2.6 trillion in 2017, of which ~52% will be invested in growth in the form of R&D, capital expenditure, and mergers and acquisitions.
Despite a fall, the technology sector remained a top spender in buybacks
According to FactSet data, the IT (information technology) space continued to be the top spender in "dollar-value buybacks." Though this has been the norm for the S&P 500 Index, spending on buybacks in the technology sector has fallen 15.4% to $30.3 billion YoY.
Among the top ten companies that spent the most on share buybacks in the trailing 12 months, three belonged to the technology sector. Apple (AAPL), Microsoft (MSFT), and Oracle (ORCL) were among the top ten companies to spend the most on stock buybacks.