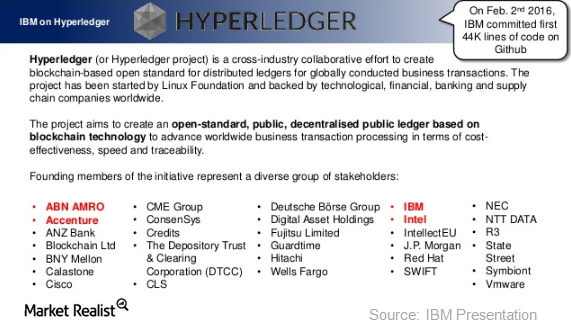 IBM Follows Alliance Route to Enhance Its Pace in Blockchain Tech
IBM partners with KYCK! on blockchain technology
Recently, we discussed IBM's new interest in blockchain technology. In mid-November 2016, IBM (IBM) announced a partnership with KYCK!
KYCK! is a Singapore-based (EWS) financial technology startup that provides users with information and access to brokerage demo accounts with hassle-free onboarding opportunities.
In collaboration with IBM, KYCK! intends to provide a platform with blockchain technology that will have video conferencing and encrypted document submission abilities. This platform will offer improved identification validation through a committed blockchain-based business network, which is likely to include banking and government entities.
Once identity verification is established, KYCK! will input customer information into current bank-based checks or third-party systems before account onboarding.
Article continues below advertisement
IBM's KYCK! blockchain offering is based on HyperLedger
This blockchain project, based on the Hyperledger, will be supported by IBM's Bluemix Garage. In collaboration with banks and technology players such as Intel (INTC), JPMorgan Chase (JPM), CME Group, and DTCC, IBM is promoting the Hyperledger Project. Hyperledger, a Linux open-source project, is a collective effort to accelerate blockchain technology.
IBM opened a blockchain innovation center in Singapore in July 2016. IBM opened Bluemix Garage in mid-2016 to focus on blockchain, financial services, and financial technology innovations.
In late June 2016, IBM, in collaboration with Japan-based (EWJ) Mizuho Financial Group, announced a blockchain test for putting the technology into use in settlement procedures.