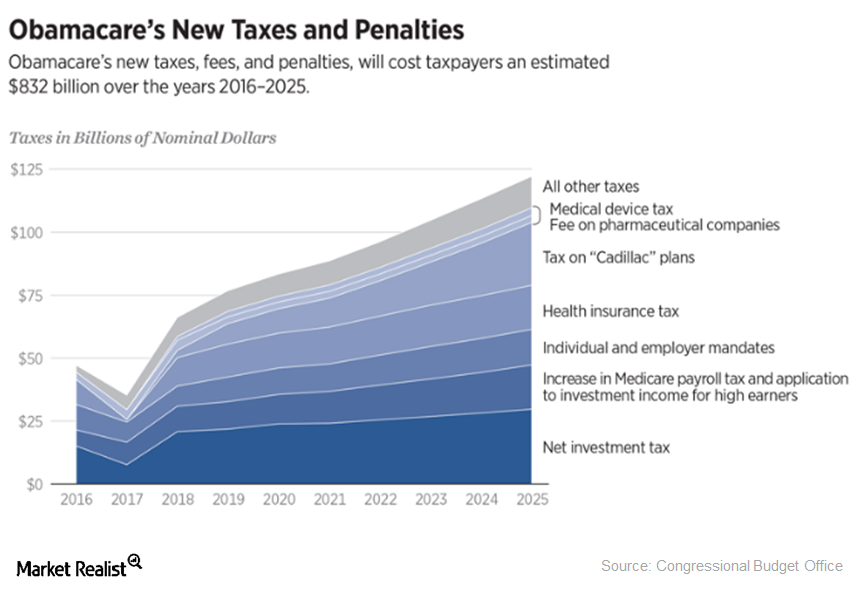 How Will the US Election's Results Impact Stryker's Business?
By Sarah Collins

Nov. 18 2016, Updated 7:04 p.m. ET
Positive view
Stryker (SYK) believes that the election of Donald Trump as the new US president could be good news for the US medical device industry. During his election campaign, Trump suggested repealing the Affordable Care Act, commonly called Obamacare, which was enacted in March 2010.
The suspended medical device tax, which levies a tax of 2.3% on manufacturers' profits, may be repealed or suspended permanently, which should benefit the industry. Companies will likely have access to more funds to invest in innovation, research and development (or R&D), and other key growth areas.
Article continues below advertisement
Stryker is uncertain about whether the Affordable Care Act will be suspended or repealed and how and when the changes will take place. However, the company stated that since it has a diversified business with steady capital sales, its revenue model is robust enough that whatever happens, there won't be a huge impact on its business.
Obamacare criticisms
Obamacare has been largely criticized by healthcare providers, who claim that it increases the costs of healthcare companies, decreasing R&D investments and impeding potential growth. 
Moreover, the industry claims that Obamacare has led to a decline in care standards. Under Obamacare, before any expensive procedures or treatments, it's necessary to get approval from insurance carriers, who try to minimize treatment expenses. In this way, proper and suitable care may not be provided to patients.
A number of small medical device manufacturers and big players such as Medtronic (MDT), Abbott Laboratories (ABT), and Thermo Fisher Scientific (TMO) are expected to see huge negative impacts in growth if Obamacare remains in effect without any repeal. The Health Care Select Sector SPDR ETF (XLV), a major healthcare ETF, will be impacted in the case of any related market event.
Next, Let's look at Stryker's core strategies for sustainable growth over the next few years.