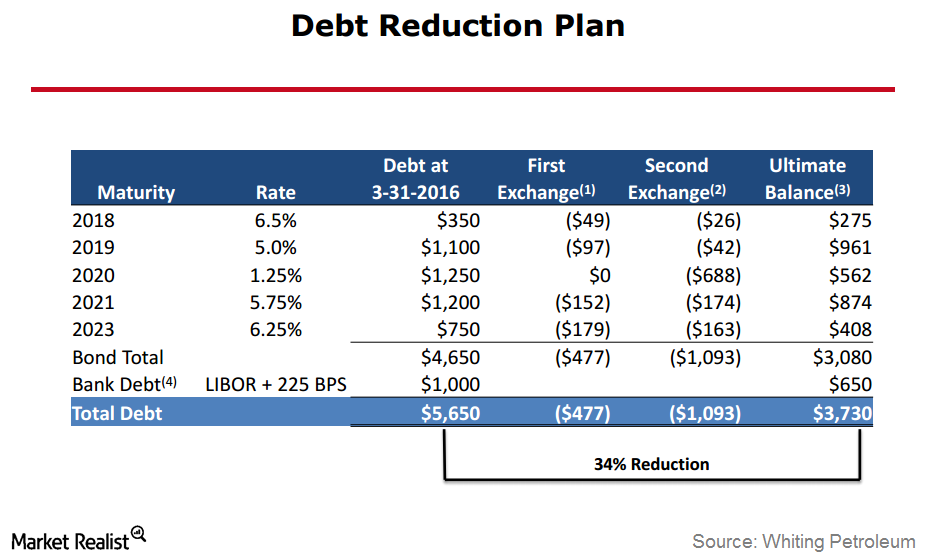 How Will the Bakken Divestiture Affect Whiting Petroleum?
How Whiting could benefit?
Debt reduction could be one of the most advantageous trade-offs Whiting Petroleum (WLL) sees resulting from its Bakken midstream divestiture. According to a press release from Tesoro Logistics (TLLP), "The revenue from the assets is approximately 90% fee-based and backed by acreage dedications from ten producers."
While WLL could see a fall in its operating cash flow, the trade-off in the form of debt reduction could be favorable for the company. As we saw in an analysis of WLL's fundamentals and balance sheet, after its Kodiak Oil & Gas acquisition in 2014, WLL took on a significant amount of debt—$5.2 billion as of December 31, 2015. Since then, the company has been working on improving its financial position. Its recent divestiture could be another step toward that goal, but it hasn't mentioned how it plans to use the proceeds.
Article continues below advertisement
One way that WLL could use the proceeds of $375 million is to pay off its $275 million worth of debt that's coming due in 2018. Alternatively, WLL could use the proceeds to reduce its bank debt of $650 million. If it does, WLL would have an outstanding $275 million under its credit facility on a pro forma basis.
Another company that has been aggressively focusing on reducing its debt this year is Chesapeake Energy (CHK). Anadarko Petroleum (APC) is another company that's battling a high debt load.
Key management comments
James J. Volker, Whiting's CEO, commented in a press release, "We expect this sale to further strengthen our balance sheet and provide us with additional financial flexibility to invest for growth in Whiting's top tier producing assets in the Williston and DJ Basins. This sale aligns with our ongoing strategy to divest non-core midstream assets and focus capital in the company's highly productive upstream business."
Top players in the DJ Basin include Noble Energy (NBL) and PDC Energy (PDCE). We looked at some of the key players in the Williston Basin in the previous part of this series.