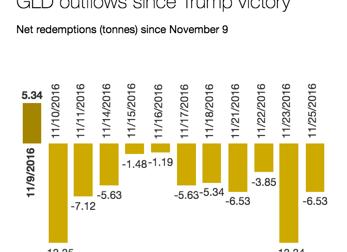 How Slowing Funds Have Slipped away from the SPDR Gold Trust ETF
By Meera Shawn

Updated
Money flowing out of GLD
As the prices of precious metals have fallen, the amount of money flowing into the funds based on these metals has also been negatively impacted. Since the victory of Donald Trump, one of the most famous gold-based funds, SPDR Gold Shares (GLD), has witnessed significant outflows of money.
GLD, which dwarfs other physically-backed gold ETFs with a more than 45% global share, now holds 885.6 tons—just over 28.5 million ounces—worth $33.7 billion as of Friday, November 25. But this figure is down by about $5.4 billion since Trump's surprise election win, and gold prices have been trying to make a comeback ever since, despite the relentless selling by physically-backed gold ETF investors since November 9.
Mining companies also fell
According to SEC (US Securities and Exchange Commission) data, the number of institutions that owned GLD stock rose as prices reached a plateau between July and September. But average holdings shrank, and the number of private investors in the stock rose much faster.
Notably, silver prices and the iShares Silver Trust ETF (SLV) have lost roughly 10% since Trump's victory. Aside from these funds, mining stocks have also faced the music of declining precious metal prices. Specifically, Barrick Gold (ABX), Newmont Mining (NEM), Goldcorp (GG), and First Majestic Silver (AG) have all witnessed losses due to the fall in silver prices.
Among exchange-traded funds, the SPDR Gold Trust (GLD) had fallen 0.6% by afternoon on Friday, November 25, having shed about 2% for the week. The iShares Silver Trust (SLV) witnessed a weekly drop of close to 0.6%.
Article continues below advertisement