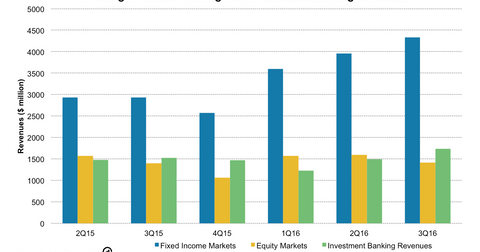 How J.P. Morgan Stands to Benefit from Trump
By Rebecca Keats

Updated
J.P. Morgan could benefit from Trump's policies
Bank stocks posted sharp gains last week after Donald Trump was elected to be 45th President of the United States. Shares of J.P. Morgan, the largest bank in the country, have gained as much as 16% since the election results, and rumors suggest that J.P. Morgan Chief Executive Officer Jamie Dimon could be named Trump's Secretary of the Treasury. Dimon's holdings in J.P. Morgan rose $69.8 million after Trump's victory.
Some expect that Trump's proposed policies will spur economic growth and lead to growing demand for banking products. And higher demand for banking products would, of course, expand banks' top lines.
Notably, J.P. Morgan derives ~16% of its income from trading activities, and the Trump-induced uncertainty will likely spur volatility in global markets in the short term, which would benefit the trading desks of these banks.
If the economy grows, it will also likely to lead to interest rate hikes, which are beneficial for the banking sector. Remember, high interest rates lead to higher net interest income for banks, and as the yield curve steepens, net interest margins grow, thereby improving profitability for banks.
Specifically, banks with more commercial loans, which often have floating rates that rise with the Fed's rate, will profit most from higher interest rates. Rates on mortgages, however, are often fixed for many years.
Trump is also expected to roll back or at least relax banking regulations, which would also ease compliance and administrative expenses for J.P. Morgan. With Trump as President, investors are thus expecting larger dividend hikes, which would also attract dividend investors to J.P. Morgan.
Currently, J.P. Morgan yields 2.6% in dividends—the highest among peers (XLF) Bank of America (BAC), Wells Fargo (WFC), and Citigroup (C).
Article continues below advertisement