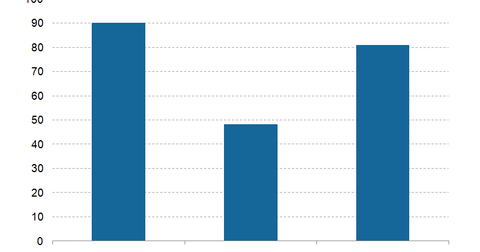 How Is IBM Helping Apple Sell More Devices?
By Puneet Sikka

Updated
IBM sees huge cost savings by deploying Apple's devices
Apple (AAPL) and IBM's (IBM) partnership continues to gain strength. These companies had forged a partnership in 2014 to have IBM analyze data collected from Apple devices. The partnership also aims to develop more than 100 mobile apps specifically for enterprises. IBM is also helping Apple directly by deploying Apple's devices for its own employees. Apple mentioned that IBM has now deployed 90,000 Macs, 48,000 iPads, and 81,000 iPhones for its employees across the organization.
Article continues below advertisement
By deploying Apple's devices in its organization, IBM is managing huge cost savings. According to Apple, "IBM reports that PCs have three times the cost to manage, drive twice the number of support calls and are 5 times more likely to require a follow-up appointment to resolve an issue than Macs. Thanks to much lower support cost and significantly higher residual value, the company is saving as much as $535 per computer when comparing the total cost of Mac ownership to a PC over a full-year lifecycle."
Apple has also partnered with Deloitte and Revel Systems
In addition to IBM, Apple has also entered a major partnership with Deloitte in order to generate more business from enterprises. During the fiscal 4Q16 earnings conference call, Apple mentioned that under this partnership, Apple has developed a new consulting service named "Enterprise Next" for the purpose of providing custom solutions to companies in more than 20 industries. Apple also partnered with Revel Systems to provide iPad-based POS (point-of-sale) solutions at 34,000 Shell (RDS.A) retail locations. This partnership also includes support for Apple Pay around the world.