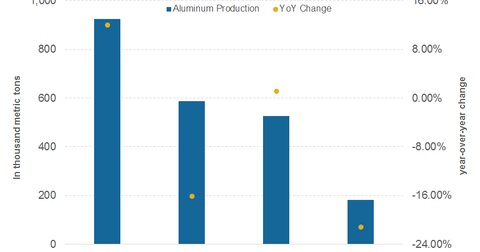 How Does Alcoa's 3Q16 Aluminum Production Compare with Peers?
By Mohit Oberoi, CFA

Updated
Aluminum production
Aluminum production is a key driver of aluminum companies' performances. For this reason, it's important for investors in the metals and mining space to follow quarterly production and shipment data. Mining companies' revenues are functions of commodity prices and shipments.
Mining companies (XME) don't have pricing power due to the commoditized nature of their business, and so changes in shipments tend to determine how one company's revenue changes compare to others.
Article continues below advertisement
Global producers
Rio Tinto (RIO) produced 924,000 metric tons of aluminum in 3Q16—a YoY (year-over-year) rise of 12%. The company's 3Q16 aluminum production rose 1.4% on a sequential basis.
By comparison, Norsk Hydro (NHYDY) reported a 1.1% YoY rise in aluminum production in 3Q16, whereas RUSAL's production was almost flat on a sequential basis, at 920,000 metric tons.
US-based producers
Century Aluminum's (CENX) 3Q16 aluminum shipments came in at ~182,000 metric tons. The company shipped ~231,000 metric tons of aluminum in 3Q15.
Alcoa's (AA) 3Q16 aluminum production fell 16.1% YoY to 586,000 metric tons. Alcoa's 3Q16 aluminum production also fell on a sequential basis. During its 2Q16 earnings call, Alcoa stated that it expects its aluminum production to rise slightly in 3Q16. The company attributed lower aluminum production in 3Q16 to production instability at one of its smelters.
US-based aluminum producers' revenues have been impacted negatively in recent quarters due to lower shipments. Both Alcoa and Century Aluminum closed or curtailed their high-cost smelters in a bid to remain competitive in the current pricing environment.
In the next part of this series, we'll discuss what a Trump presidency could mean for US-based aluminum smelters.