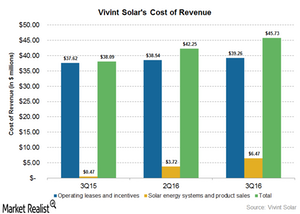 How Did Vivint Solar's Costs in 3Q16 Affect Its Bottom Line?
Segment-wise cost performance
Vivint Solar (VSLR) reported $39.3 million in operating leases and incentives revenue costs for 3Q16 compared to $38.5 million in 2Q16 and $37.6 million in 3Q15. According to company filings, the YoY (year-over-year) increase in the cost of operating leases and incentives revenue is primarily due to an increase in depreciation and amortization of solar energy systems.
The cost of revenue of the Solar Energy Systems and Product Sales segment came in at $6.5 million compared to $3.7 million in 2Q16 and $0.47 million in 3Q15. The cost of the solar energy system and product sales mainly consists of direct and indirect material and labor costs for solar energy systems. The increase in the volume of system sales resulted in a higher cost of revenue both on a YoY and quarter-over-quarter basis.
VSLR's total cost of revenue for 3Q16 came in at $45.7 million compared to $42.3 million in 2Q16 and $38.1 million in 3Q15.
Article continues below advertisement
Vivint Solar's adjusted net loss
Vivint Solar reported a net operating loss of $33.3 million for 3Q16 as compared to $54.4 million in 3Q15 and $36.5 million in 2Q16. Lower installation cost per watt and lower S&M (sales and marketing) expenses helped the company to report lower operating loss on a YoY basis. Also, the company reported a net loss of $39.3 million as compared to $54.3 million reported during the same period in 2015. However, the majority of these losses were attributable to non-controlling interests. The income attributable to common stockholders came in at $16.7 million as compared to about $0.5 million during 3Q15.
The business models of downstream solar (TAN) players like VSLR, Sunrun (RUN), SolarCity (SCTY), and downstream operations of SunPower (SPWR) generate revenue over the terms of their customer lease agreements. These agreements typically last for 20 years. As a result, operating losses are common among the downstream solar players.
In the next part of this series, we'll look at Vivint Solar's leverage and liquidity position.